Speed Endurance Record
The record for maximum distance covered in 24 hrs on a motorcycle was set by EVO India magazine on TVS Apache RR310 fitted with Apollo Alpha H1 Tyres at the NATRAX in Pithampur, MP, on July 3, 2023.
As part of the 24-hour speed endurance challenge, a milestone of 3,657.92 km was achieved by EVO India magazine at NATRAX in Pithampur, Madhya Pradesh – Asia's longest highspeed track. Thus, the record for maximum distance covered in 24 hours on a motorcycle was set and the magazine's name got into the India Book of Records. A team of riders rode the motorcycle – TVS Apache RR310 fitted with Apollo Alpha H1 Tyres, continuously for 24 hours, starting on July 2, 2023, at 10 am and ending on July 3 at 10 am, stopping only for rider change and refuelling, clocking 152.2 kmph average speed during the attempt.
Exactly 20 years ago, in September 2003, the very first 24-hour speed endurance records were attempted in India. The most powerful Indian motorcycle at that time, the Hero Honda Karizma, set a record of 2525 km over 24 hours at the VRDE test track and this record stood strong for 20 years. Then last year the Harley-Davidson Sportster S broke this record by going 3141 km in 24 hours. Breaking a 1250cc imported motorcycle's record with an Indian bike was a big challenge. Another target was to do it with one set of tyres. Apollo Tyres accepted the challenge to put their tagline 'Go the distance' to the ultimate test with the Alpha H1 tyres. The bike of choice was the TVS Apache RR 310.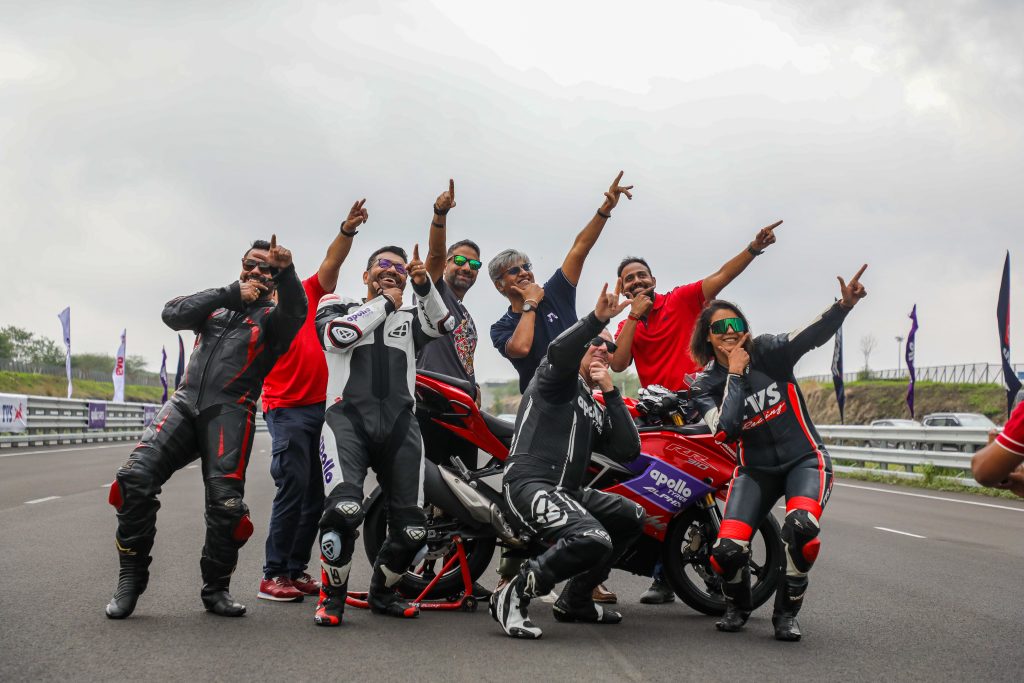 Sirish Chandran, Editor of EVO India told the India Book of Records magazine, "Not only were we aiming to shatter the 20-year-old national record, but we were determined to achieve this feat on an Indian motorcycle, with Indian tyres gripping the asphalt, on an Indian test track. What we were confident of was that the NATRAX would make
for the safest venue for attempting a record of this kind. Spread over 3000 acres in Pithampur near Indore, this is Asia's largest automotive proving ground and right up there among the best in the world. Prior to attempting the actual record, we held a 12-hour trial run at NATRAX. This test run gave us a realistic idea of what to expect when we did the full 24 hours."
Apollo Tyres, who have a permanent facility at the NATRAX, gave their full support. TVS Racing had their core racing team at the event and they took care of the three bikes and all the pit stops. The riding team comprised Apollo Tyres' testing and validation engineers Alessandro Abate and Abson Varghese. Other members of the riding crew included Sirish Chandran, Aatish Mishra, Karan Ramgopal, Mandar Sawant, Aravind Ganesh, Lokesh Prabhu, Vengatesh Kannan, Manoj Naveen, Padmanaban, Karamjeet, Rohith Ashok, Deepak and Aishwarya Pissay.
Each rider was riding from tank to tank stopping for fuel every hour and 10 minutes, by which point the bike would have run for around 167 km. This ride was challenging on both man and machine but this was further amplified as the sun began to set. As night fell, one could barely see ahead of the beam of the headlight. To remedy this as much as possible, Bike N Biker sent over a set of auxiliary lights for each motorcycle. As the clock struck 10 on the morning of July 3, a new record was made.