Empowering Girls with English Grammar
The record for teaching the maximum number of girls English Grammar offline in a single session was set by Praveen Chirayath (40) from Thrissur, Kerala. A total of 1,148 girl students attended the class held on June 2, 2023.
English is often learned as a second or additional language in India, with many students having a native language other than English. Learning a second language can offer challenges, including difficulty in correct pronunciation, grammar, vocabulary, and comprehension. Students in India may have limited exposure to English outside of the classroom, particularly in regions where the dominant language is different. Insufficient opportunities to practice and immerse oneself in an English-speaking environment can hinder language acquisition and fluency. The Indian education system, especially in the Govt. schools, is primarily conducted in regional languages, and it may not always prioritize English language proficiency. The focus on rote learning, examination-centric approaches, and a lack of communicative language teaching methods can contribute to inadequate language skills. These are the thoughts of a 40-year-old Keralite, Praveen Chirayath from Thrissur who set the record for teaching maximum girls English Grammar offline in a single session and thus earned a rightful place in the prestigious India Book of Records.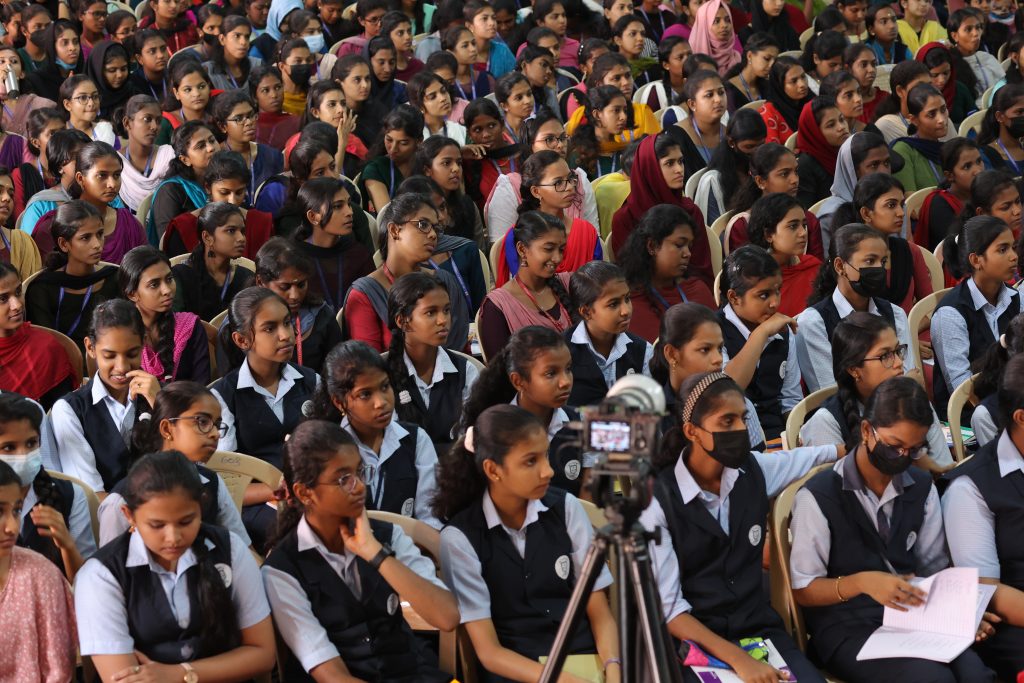 With a focus on women empowerment, he started his English Grammar class on June 2, 2023, at 10 am and taught different topics such as sentence construction, tenses, and application to 1148 girls. The three hours single session class concluded at 1 pm at St Joseph College, Irinjalakuda. Following the session, the students also received a live assessment. Talking to the India Book of Records magazine, Praveen said, "As a Malayalam Literature Graduate, hailing from the countryside, I underwent the hurdles. But I could excel in my career as a corporate trainer after learning English, the global language. By making this record my intention was to give a message to the students that learning English by understanding the concept of grammar is just a cakewalk. Students may feel hesitant or fearful of making mistakes when speaking or writing in English. This fear can result from societal pressures, a lack of confidence, or a fear of judgment, which can hinder their progress and willingness to practice the language."
Praveen wants to take his venture 'The Next Level' to the real next level by lending a helping hand to all those who wish to learn the English language and reach their dream career. In the last 19 years, he has personally trained and coached a multitude of business professionals. He had lent a hand to various organisations including the Lulu Group International. Academically, he holds a Post Graduate Diploma in Hospitality Management from the Hotel and Tourism Management Institute (HTMi), Switzerland. He is viewed as an employability expert in the training industry, as he facilitates both the business and academic sectors by providing practical, interactive, and fun-filled activity-based training through workshops and seminars.
The participants of the record-setting Grammar class were from different colleges and different higher secondary schools in the Thrissur district. All of the students were girls as the theme was related to women empowerment. Praveen himself did the assessment after the session. He distributed a questionnaire in the Google form. The topics covered in the class included basic English Grammar, sentence formation, tenses,  pronunciation, tips, and tricks to improve the English language. In his golden years of training, he was awarded the YMCA Best Trainer Award in the year 2009. Praveen is the founder and managing director of The Next Level Finishing School.