Celebration of a divine music
The record for the 'maximum number of participants singing Carnatic classical songs in different languages' was set by Kalyani Mudumba founder of Kalyani School of Music, Bloomington, Illinois, USA on October 8, 2022.
For the past 50 years, my grandfather and now my father and uncles are carrying forward the tradition of singing in Yadagirigutta (Yadadri), a divine abode of Lord Narasimha Swamy. During the Bramhothsavam, the Lord along with His consorts and other Devathas are invited and later bid adieu through singing kirtans in several programmes, called Devatha Avahnam and Devatha Udavaasana, said Kalyani Mudumba (43), founder of Kalyani school of music, Bloomington, Illinois, USA. She has created a record for the maximum number of participants singing Carnatic classical songs in different languages. The event, Ashotthara Shatha Sankeertana Archana, took place at The Hindu Temple, Bloomington-Normal in Illinois on October 8, 2022.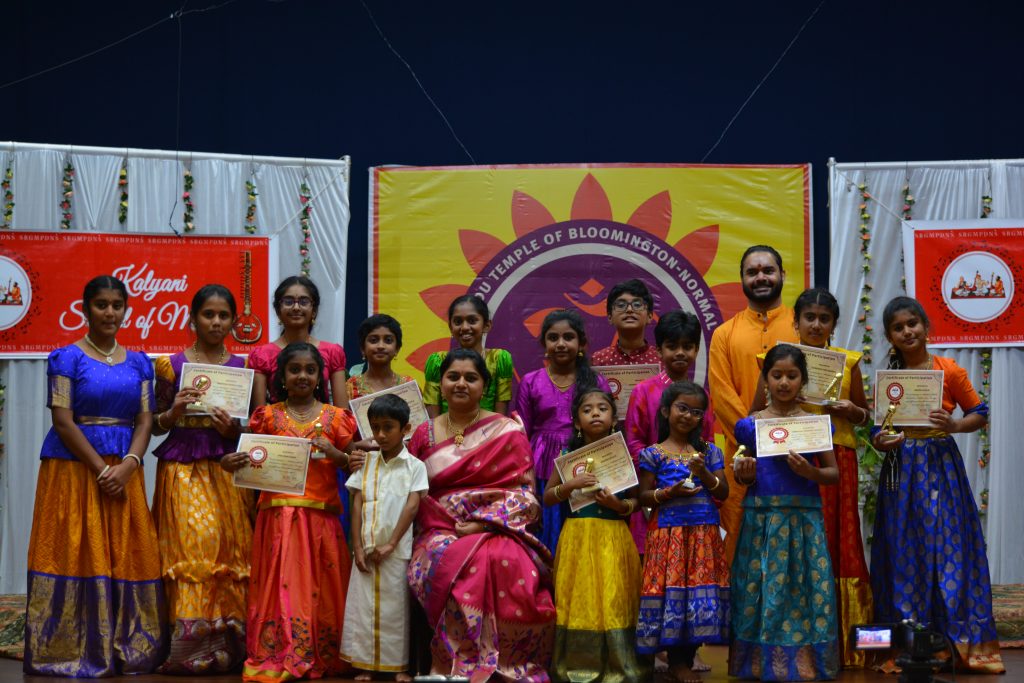 There were 27 talented participants from two continents who mesmerised the audience with 108 soul-stirring songs by 30 composers in 6 languages (online and offline), which served as a fundraiser for a local temple. The activity gave Kalyani a proud mention in the India Book of Records (IBR) and the Asia Book of Records (ABR) simultaneously. Kalyani, a vocal music teacher in the US, did her graduation in Accounting and Business/Commerce from Osmania University, Hyderabad. Then she completed her Master of Business Administration (MBA) from the Symbiosis Centre for Management and Human Resource Development, Pune, Maharashtra.
Kalyani is a South Indian Carnatic vocalist, teacher, and composer with more than 20 years of musical experience. She has rendered children's rhymes through CVS 3D Rhymes, a global hit, and sung a few title songs for Indian serials. Additionally, she is an author who published two books and has translated several books into English along with publishing articles in several magazines and social media platforms. She also has been a judging panel member for the world's largest county 4-H fair for the 'Read and Write A Book' category and an active volunteer in United Way. In addition to singing, she's also a Bharatanatyam dancer who has performed in several schools and colleges in India.
Kalyani Mudumba said, "My heartfelt thanks to ABR and IBR for supporting me to promote the Indian Culture through this divine form of music. I commenced my musical journey under the guidance of Srimaan Mudumbai Lakshmana Charya Swamy, my paternal grandfather. My humble salutations to him for guiding me in every musical endeavour."
Carnatic music, known as Karnaṭaka saṅgitam in the South Indian languages, is a system of music commonly associated with Karnataka, Andhra Pradesh, Telangana, Kerala, and Tamil Nadu. It is one of two main subgenres of Indian classical music that evolved from ancient Hindu texts and traditions, particularly the Samaveda. The main emphasis in Carnatic music is on vocal music; most compositions are written to be sung, and even when played on instruments, they are meant to be performed in a singing style.
Carnatic music is usually performed by a small ensemble of musicians, consisting of a vocalist, a melodic accompaniment (usually a violin), a rhythm accompaniment (usually a mridangam), and a tambura. Other typical instruments used in performances may include the ghatam, kanjira, morsing, venu flute, veena, and chitraveena. Various Carnatic music festivals are held throughout India and abroad, including the Madras Music Season, which is considered to be one of the world's largest cultural events.