Spit-Free India Movement
Priti Raja and Raja Narasimhan, co-founders of the Sare Jahan Se Acha Foundation, believe 50% of respiratory diseases can be stopped from spreading if people stop spitting in public spaces. Having served MNC corporates, this entrepreneur couple has been working on their key project – the Spit-free India Movement. They spread awareness about the dangers of spitting in public places. They urge the people who do not spit to get involved and start telling others not to spit in public spaces. Narasimhan (58) set the record for the 'maximum number of states and union territories visited by road to raise awareness about public hygiene' under the India Book of Records (IBR).
The couple has been pursuing this cause relentlessly in Pune, Maharashtra, since 2010 by engaging students from schools and colleges. Pune Municipal Corporation has been supporting this initiative too. Activities like public wall painting, street plays, sessions for secondary school students, and events on special occasions are some of the campaigns they organise regularly. In March 2021, they decided to take the campaign across India and decorated their Renault Duster car with anti-spitting messages in various languages. They started the pan India drive on February 14, 2021, with the theme – Love your City, Love your Country.
Narasimhan and Priti along with Cara (pet dog), drove through coastal Maharashtra and visited tourist places like Mahabaleshwar, Panchgani, Sangli, and Satara. Their campaign involves a street play, Zumba, game, speeches, sloganeering, administering an oath by the local chief guest, flag off of the vehicle, and a 45 minutes package wherever they go. The couple covered a distance of 32,000 km across 20 states and 2 Union Territories of India in 8 phases from March 2021 till February 2023.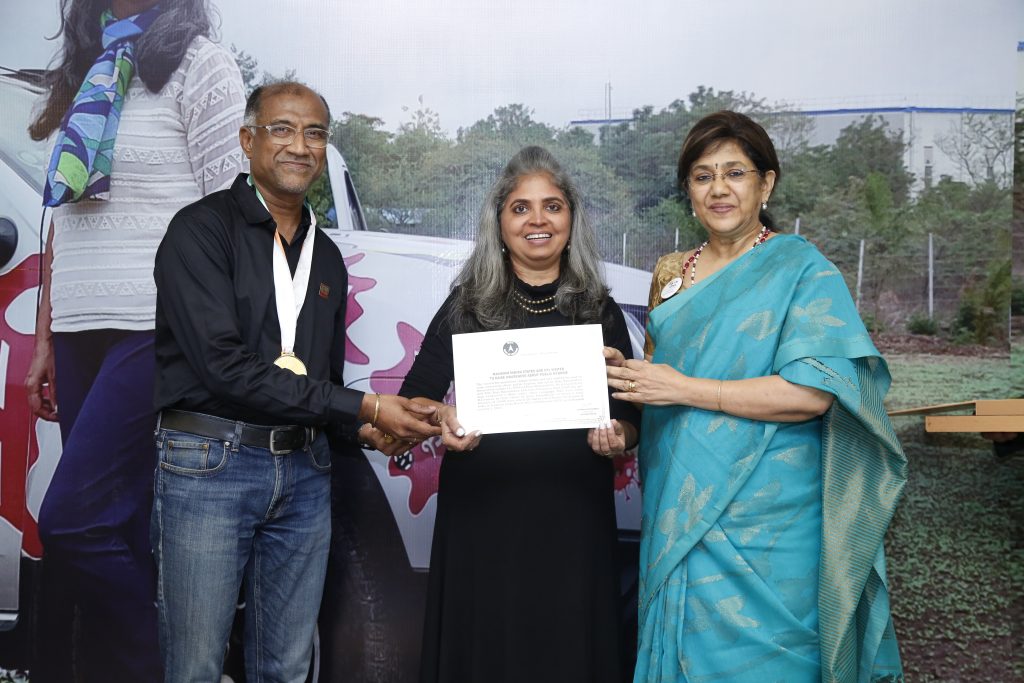 Narasimhan told the India Book of Records magazine that each time they stopped, the car attracted the attention of the general public who were curious to know about the campaign and acknowledged their efforts. Unfortunately, Covid-19 second wave put a halt for 3 months. After getting both vaccines, they started the second phase of their campaign in Karnataka and Tamil Nadu. DGP of Karnataka, CP of Bengaluru, and Additional Commissioner of Bengaluru Municipal Corporation participated in flag-off events. The third phase drive was to Nashik, Dhule, Indore, and Ujjain, which was completed in September 2021. The phase 4 drive to Surat, Ahmedabad, Vadodara, Vapi, and Udaipur was completed in October.
The 5th phase drive started in November 2021, when they headed to Solapur, Hyderabad, Guntur, Vijayawada, Vizag, Bhubaneswar, and Kolkata. In West Bengal, they visited Shantiniketan, Joka, and Garden Reach. In the 6th phase, they covered Ajmer, Pushkar, New Delhi, Gurugram, Faridabad, Chandigarh, Shimla, Dehradun, Rishikesh, Haridwar, Lucknow, Agra, Gwalior, Indore, and Nashik. They coordinated with like-minded organisations, schools, colleges, industries, and associations for a campaign in each of the cities to spread the dangers of spitting in public. They covered Goa in June 2022 as phase 7. The phase 8 drive to Tamil Nadu and Kerala started on January 24, 2023. They had events in Coimbatore, Kochi, Madurai, Tiruchirapalli, Tanjore, Kumbakonam, and Salem.
They book pet-friendly hotels before starting each leg of the journey. In the 9th phase, they drove to Srinagar, Drass, Kargil, and Leh. The 10th phase may cover North East in September. "TB, Pneumonia, Influenza, and Swine Flu can be controlled if we change our attitude towards public hygiene", said Priti Raja.