TEDx dance, music, poetry
How poetry can influence the hearts and impact the world, could be felt at the TEDxYouth @ Euro School Kharadi, Maharashtra, where Malaika David, a teacher working at the Euro School Kharadi and a TEDx speaker of repute, expressed her thoughts through one of her poems. It was the second edition of TEDx Youth, where 67 girls showcased their talent presenting different cultural programmes for a total of 16.36 minutes period. There were 15 other speakers too who used this platform to highlight different social issues in their talks at the event. The show which started at 10 in the morning continued till 5 in the evening. The programme was curated by Reshma Shaikh (49) of Kharadi, Maharashtra.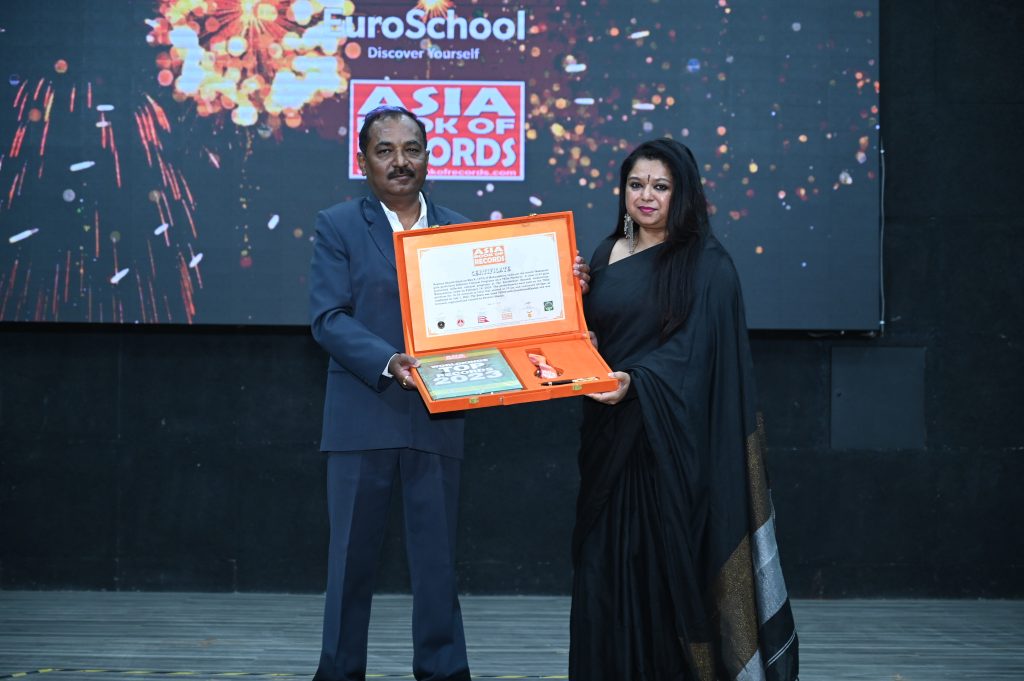 The group dance participants created a record for the 'maximum number of girls who performed different cultural programmes on a TEDx platform'. Thus the event successfully made its way to the prestigious pages of the Asia Book of Records (ABR).  It was held at the Euro School Kharadi Auditorium, in Pune, Maharashtra on February 18, 2023. The students of Mount Carmel School and Euro School Kharadi, along with the EuroSchool staff, took part in different programmes. The participants were from the age group of 8 to 46 years.
The girls who participated in the event highlighted the theme 'Inspired to Inspire' through their dance, music, and poetic performances. As they say, where words leave, music begins, the Mount Carmel Band displayed the spirit of teamwork in perfect synchronisation of their musical instruments. The announcement of making it to the Asia Book of Records was shared on different social media platforms including Instagram and Facebook. Dr Chitra Jain, the Adjudicator from the Asia Book of Records verified the claim and presented the ABR certificate and the medal to Reshma Shaikh, the organiser. Mahesh Ambokar and Anubha Gupta were the special guests at the event.
Reshma Shaikh, Principal of the Euro School Kharadi, is a 3-times TEDx organiser, licensee, and curator of the popular event. She said, "In a society that recognises love, freedom, and beauty, dance is considered the most sacred act. Dance has the ability to fill our hearts with blissful joy. The students and faculty of our school put together an amazing dance performance, choreographed by our dance partner Brian's Academy of Dance."
"However, challenges were met, boundaries were crossed, and constraints were overlooked. Team spirit surrounded everyone as well as the student volunteers. Every performance had a magic of its own. It strived towards an inspiration to the audience and touched the hearts of many. The girls prepared and practiced in a timeframe of two weeks and rocked the stage," said Reshma Shaikh.
Euro School Kharadi is a part of Light House Learning, one of the leading Early Childhood and K-12 Education groups, in the country. Euro School has a network of 15 K-12 schools comprising more than 25,000 students. Putting together such a big event required collaboration and cooperation.