Coin collection for longevity
The record for maximum national and international coin collections was set by Dr. Siddavatam Subrahmanyam of Nellore, Andhra Pradesh, who has a total of 5616 coins wherein 2092 are national and 3524 are international.
 Dr. Siddavatam Subrahmanyam (70), a medical professional from Nellore, Andhra Pradesh, thinks the hobby of collecting unique things helps in gaining longevity. He started collecting national and international coins, currency notes, and postage stamps in 1995. Till the year 2011, this hobby remained limited, but after retirement, he began to devote more time and money to his collections. He holds the record for collecting maximum national and international coins and for this, his name has been entered in the India Book of Records. He has a total of 5616 coins, of which 2092 are national and 3524 are international.
A medical professional, Dr. Siddavatam Subramaniam completed his MBBS in 1978 from SV University, Tirupati, Andhra Pradesh. For the first two years, he worked at JIPMER Hospital, Pondicherry. After that, he worked in rural areas (1979–81) and then joined the central government service (1981–83). During 1983-93, he worked under the Ministry of Health of Iran. After returning to India, he did a PG Diploma in ENT and worked in AP Medical Service from 1995-2011 as an ENT specialist. After retirement, he joined the Apollo Hospital Nellore and currently, he is with another hospital.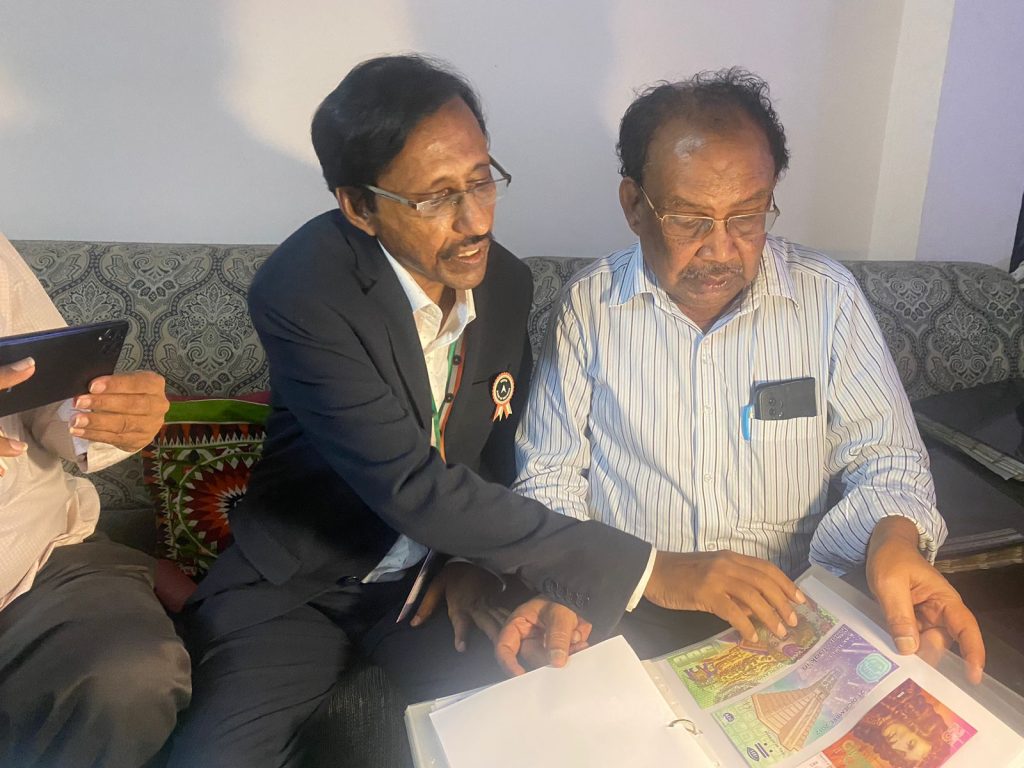 Dr. Subrahmanyam said in a conversation with India Book of Records magazine, "After my professional duties, I spent most of my time collecting unique objects and keeping everything in proper order. Earlier I used to spend hardly 10% of my earning on this hobby, but after retirement in 2011, I started spending more than 50% of my pension and salary on my collections. I displayed a part of my collection in 2016 after becoming the President of the Simhapuri Numismatic and Philatelic Association, Nellore. In March 2022, when the Indian Postal Department organised a virtual exhibition of postage stamps related to the freedom movement, under the Azadi Ka Amrit Mahotsav, my collection was also displayed."
Initially, in 1995, he bought items for his collection from street vendors in Hyderabad and Chennai. Later, he started shopping with some dealers. In the last two decades, he has participated in most of the exhibitions held in Hyderabad, Chennai, Coimbatore, and Kerala. He has been to the USA four times and spent time there with his daughters. During that period, he collected commemorative coins and 370 gold-plated postage stamps from exhibitions.
The ancient coins of India and the silver coins issued from Kolkata and Mumbai mints are of high value. The value of foreign commemorative silver coins is also quite high. He now has plenty of time to visit exhibitions and other places to see the collections. Apart from coins, he also owns 1607 currency notes, of which 607 are Indian and 1000 are foreign. Similarly, there are 5127 national and 16678 foreign stamps in his collection of 21805 stamps.
He is keen to continue his hobby of coin collecting, as it brings him immense joy and satisfaction. These collections provide information about the heritage and culture of India and some foreign countries. He advises his children to do the same. He tells people to pursue any hobby because it keeps the mind engaged. The hobby of collecting unique things can help achieve longevity.