India's Tallest Fever Thermometer
Team Nice from Dr. Reddy's Laboratories, Hyderabad, Telangana has entered the India Book of Records in association with Scientimed Solutions Pvt Ltd by making India's tallest thermometer. The country's tallest thermometer made of fiber has been installed in the office premises of the Additional District Magistrate (ADM), Phalodi, Rajasthan on May 19, 2022, with the main objective of raising awareness about fever.
Phalodi's Additional District Magistrate (ADM) Hakam Khan inaugurated the thermometer structure. During the unveiling ceremony of the thermometer, the officials of Dr. Reddy's Laboratories gave information about the utility and features of this thermometer. This unique structure of the thermometer will remain in this place for one year or more.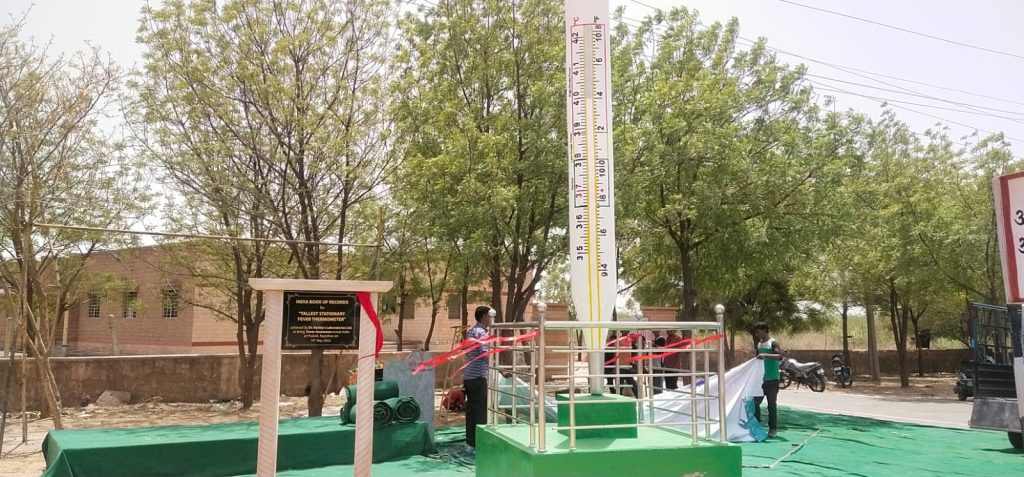 Present during the ceremony, Sub Divisional Magistrate (SDM) Dr. Archana Vyas, along with a senior doctor, Dr. Arun Mathur, besides Phalodi Police and Administrative officials, all departmental officers and dignitaries were also present. The fever awareness campaign initiated by Dr. Reddy's Laboratories also involved coining May 24, 2022, as Fever Day in association with the Association of Physicians of India. May 24 happens to be the birth anniversary of Gabriel Fahrenheit, the inventor of the mercury thermometer.
The President of the Association, Dr Shyam Sundar, formally announced that May 24 should be observed as Fever Day every year and urged the community of doctors to conduct patient wellness activities focused on Fever awareness on this day. According to Dr Ashwin Kumar, Managing Director, Scientimed Solutions Pvt Ltd, the fever thermometer installed at Phalodi town of Rajasthan is made from Fiber Reinforced Plastic (FRP) and has a 12 feet high structure. This is the tallest and first stationary fever thermometer in the country aimed at raising awareness about fever.
Phalodi is a town and a municipality in the Jodhpur district in Rajasthan. It is the headquarters for Phalodi tehsil. Phalodi is also called the 'salt city' due to the salt industry. This tehsil town is in the buffer zone of the Thar Desert and is often subject to extreme temperature conditions due to its arid geographical location and climate. It holds the record for the highest verified temperature recorded in Rajasthan at 51 °C (124 °F) on May 19, 2016. It is also the highest temperature ever recorded in India.