Destined to Dance
The record for performing Bharatnatyam for the longest duration was set by Nallangu Bhavya Hasini of Nellore, who performed Bharatanatyam nonstop for 4 hours on July 8 at Rebala Lakshmi Narasimha Reddy Town Hall.
Meet Nallangu Bhavya Hasini of Nellore, Andhra Pradesh, a teenager who is determined to promote India's rich culture and traditions through Bharatanatyam, the classical dance form. The young girl started learning Bharatanatyam at the tender age of six from E K Kamakshi and Subrahmanyam with absolute dedication. Bhavya, who hails from a middle class family, had been giving three hour nonstop Bharatanatyam performances at major temples, including Sabari Kshetram, Mulasthaneswara, Ranganatha and Rajarajeswari temples of Andhra Pradesh, during the last two years, winning huge applause from the audiences.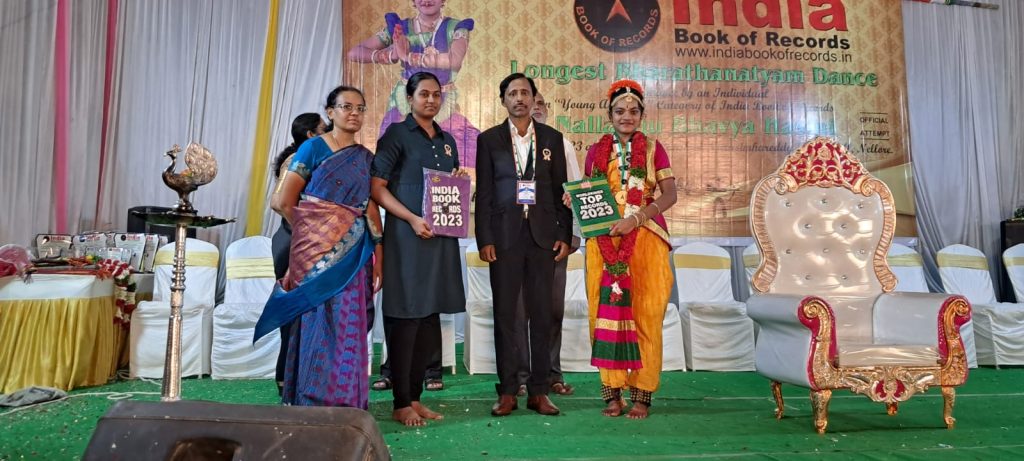 She recently entered her name into the prestigious pages of the India Book of Records (IBR). Bhavya set the national record by performing Bharatanatyam continuously for four hours at the Rebala Lakshmi Narasimha Reddy Town Hall in Nellore. She is the daughter of Nallangu Sunil Kumar, Deputy Executive Engineer with the Andhra Pradesh Southern Power Distribution Company Limited (APSPDCL), she is also focused on her studies. Not only this, she is striving hard to get a black belt in karate to be equipped in self defense. She is also good at sketching and painting.
"My aim is to spread Sanatana Dharma through Bharatanatyam. I want to use the classical dance forms as a bridge between India and the rest of the world. It is our responsibility to preserve our rich culture for future generations," said the young achiever from Nellore. The record setting dance performance event at the Nellore Town Hall on July 8, 2023, was organised by Smaller Choices. The dance performance began at 4 pm and continued till 8 pm. Bhavya's age was 12 years, 7 months, and 28 days at the time of the record making.
Her next target is to perform a Bharatanatyam recital while making Giri Pradakshina in Arunachalam to further prove her mettle. "After observing her keen interest in Indian culture, we started providing her classical dance training. Now, she is keen on promoting Indian culture on various platforms in a big way," said her mother Chenchu Lakshmi, an office assistant in Postal Department.
It is worth mentioning here that Bharatanatyam is a major form of Indian classical dance that originated in Tamil Nadu. It is one of the eight widely recognised Indian classical dance forms expressing South Indian religious themes and spiritual ideas, particularly of Shaivism and in general of Hinduism. Bharatanatyam, the state dance form of Tamil Nadu, is the oldest classical dance tradition in India. It contains different types of 'Baanis', a Tamil term used to describe the dance technique and style specific to a Guru or School. These are named according to the village of the guru. The dancers display sophisticated gestures of hands, eyes, and facial muscles.
This dance form remained exclusive to the Hindu temples during the 19th century. It was banned by the colonial British government in 1910, but the Indian community protested against the ban and expanded its performance outside temples in the 20th century.