The Art Beat Competition
Lokmat Campus Club set a record for the maximum number of students participating in a drawing competition to commemorate, the late freedom fighter & founder of Lokmat, Jawaharlalji Darda's centenary celebration.
The Lokmat Times Campus Club, in association with IIB Career Institute, presented 'Art Beat', a state-level drawing competition, aiming to make history and secure a place in the prestigious Asia Book of Records (ABR). The record-setting activity was part of the centenary birth year celebrations of the revered freedom fighter and founder of Lokmat – Jawaharlal Darda, on July 10, 2023. Maharashtra and Goa witnessed an extraordinary gathering of young artists showcasing their talents across various captivating themes. The Art Beat competition saw a total of 5,06,330 students aged 6 to 15 years who were divided into 5 groups joining together to participate in the drawing competition, from 35 districts across Maharashtra and Goa.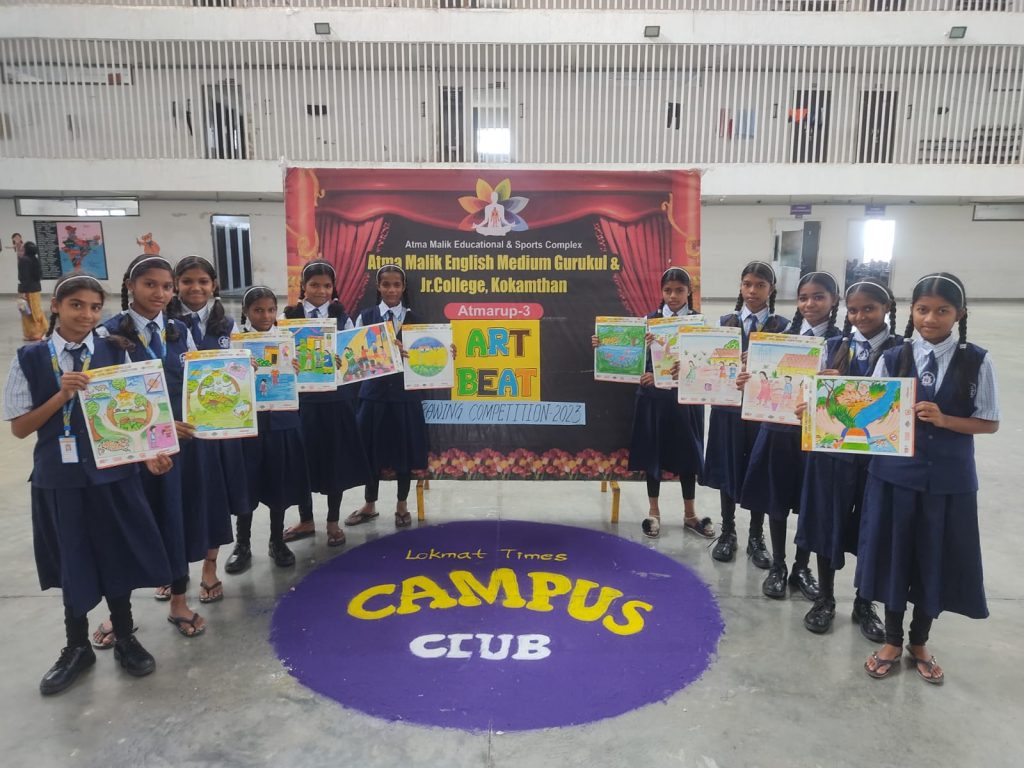 With the goal of breaking records and fostering creativity, the drawing competition invited students from schools across the two states of Maharashtra and Goa to participate and etch their names in the annals of history. Students from standard 1st to 10th unleashed their artistic prowess and chose from a range of enchanting subjects according to their respective groups. The competition promised an exhilarating experience as participants immersed themselves in their chosen themes. Standard 1st and 2nd students depicted their imagination on subjects such as My Friend Ganesha, and My Home. Students from standard 3rd to 4th outlined the importance of a 'Save the trees' or the beauty of a 'Space'.
As the students progressed to higher grades, the themes became more diverse and thought-provoking. Standard 5th and 6th students portrayed 'Monsoon and the peacocks', and also displayed their creativity through 'Sunflowers'. Students in standards 7th to 8th were asked to celebrate the spirit of India by illustrating their 'Favorite Indian Festival' or emphasizing wildlife conservation through 'Save the Tigers'. Not to be outdone, students in standard 9th and 10th explored visionary concepts as they sketched 'My India in 2035', or 'Save the Ocean'.
The organizers ensured a level playing field by providing drawing sheets to all participants. However, students were required to bring their own colouring and stationery materials, adding a personal touch to their artistic creations. Every participant was given a participation certificate, a testament to their dedication and artistic flair. The competition was held within the premises of each participating school, fostering a sense of camaraderie among the students. To recognize excellence and encourage healthy competition, three winners were selected from each group. The winners were awarded certificates. The event promised a remarkable amalgamation of creativity, education, and celebration as it set out to achieve a new milestone by creating a record.
Meanwhile, at a separate event, Union Minister for Home, Amit Shah and Deputy CM of Maharashtra, Devendra Fadnavis released the book 'Babuji', which is based on the life of the founder editor of Lokmat Media Group and veteran freedom fighter Jawaharlal Darda. Chairman of the editorial board of Lokmat Media and former member of Rajya Sabha Vijay Darda, State BJP chief and MLC Chandrashekhar Bawankule, editor-in-chief of Lokmat Media Group Rajendra Darda, managing director and editorial director of Lokmat Media Group Devendra Darda, joint managing director and editorial director Rishi Darda, executive director and editorial director Karan Darda, and group editor Vijay Baviskar were also present on the occasion. Amit Shah said that a lot should be learned from the life of senior freedom fighter and founder-editor of Lokmat Jawaharlal Darda alias Babuji on the occasion of his birth centenary year.