Multi-lingual theatrical marathon under a single director
India Book of Records promotes and encourages all kinds of persons to set a record or else, break it. Dr. Rammohan Holagundi, a veteran theater artist from Hyderabad, Telangana, set the record for organizing and directing the longest multi-lingual theatrical marathon for 24 hours. He himself directed all the 27 plays. His name has featured in the India Book of Records for this marvelous feat. He had a special motive behind organizing the Multi-lingual Theatrical Marathon on 27 March 2022, celebrated as World Theater Day, a date which coincides with the completion of 27 years of his theatrical institution, Nishumbita School of Drama. It took the tireless work of 82 members of Nishumbita School of Drama to set this record.
Dr. Rammohan's goal was to stage 27 plays within 24 hours, which his team completed in 23 hours and 20 minutes only. This is a huge achievement for Nishumbita School of Drama, the brain-child of Dr. Rammohan who has been active in theater for the last 33 years. He also teaches drama at the university, and he has built an Auditorium with a seating capacity of 100 people at his home, where plays are staged. He was born on April 4, 1974 in Karnataka, but has been living in Hyderabad since childhood. He established the Nishumbita School of Drama in the year 1994 and has staged more than 375 plays till date. He considers theater to be a powerful medium of social change. About 174 floating members are associated with the organization. Theatre took the centre-stage in Telangana some five years back. People come to see but it is not customary to buy tickets. Therefore, the school is run by the income from the theatrical workshops.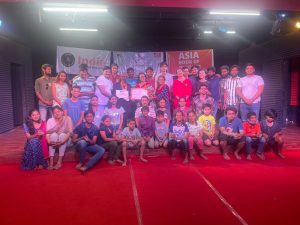 When asked how the idea for the marathon of plays came about, Dr. Rammohan said that he had started the tradition of conducting a week-long theatre festival every December since 2015. The plays based on the works of Indian writers have been included in this marathon. "After the pandemic was over, the idea of ​​doing something different was in my mind," saus Dr. Holagundi. Apart from Telugu, national and international plays of all kinds were included in the marathon. There were also children's plays. The duration of the plays remained 30 minutes to 70 minutes. The themes of the plays were kept current, such as the disadvantages of overeating, the effect of Corona, superstitions etc. Children's plays also included Human Puppetry, in which children acted as puppets and gave their own voice overs. Even Rudyard Kipling's Jungle Book was staged in the marathon.
Overall, the challenges in organizing the event were no less. It was difficult to get permission from the UK-based writers for English plays. However, the more difficult it was to get permission for the late Nirmal Verma's play from his wife. The core team disbanded during the planning due to fear of Corona. Immediately a new team had to be formed. Some members had to play different roles in more than one play leading to over-exertion and exhaustion. The children's feet were swollen. The biggest challenge came when it was found at 5.30 am that two members had dropped out, while the marathon was to start at 7 am. In a hurry, two children were prepared from the back stage. Fortunately, everything went well and a record was also made. The entire show was broadcast on Facebook Live.