Musical Push to Stop Child Labour
Mellifluous Melodies founder MS Martin of Chennai set a record for the maximum number of people in a keyboard ensemble, where 445 students participated to create awareness against child labour.
Chennai witnessed the largest keyboard ensemble on May 1, 2023, under the aegis of Mellifluous Melodies on Keyboard, a music school which focuses on teaching Carnatic music through the keyboard. The event was held at the grand Centenary Auditorium of St Bede's School, Chennai, Tamil Nadu, in association with Madhuradhwani Sangeetha Sabha. MS Martin, the founder of the school, hosted the world's largest keyboard ensemble to support the cause of stopping child labour. The event featured 445 keyboard music students, aged between 5 and 20, from across the state of Tamil Nadu. Music teachers from across the state also pitched in to support the event. The musical attempt made its way directly to the Asia Book of Records.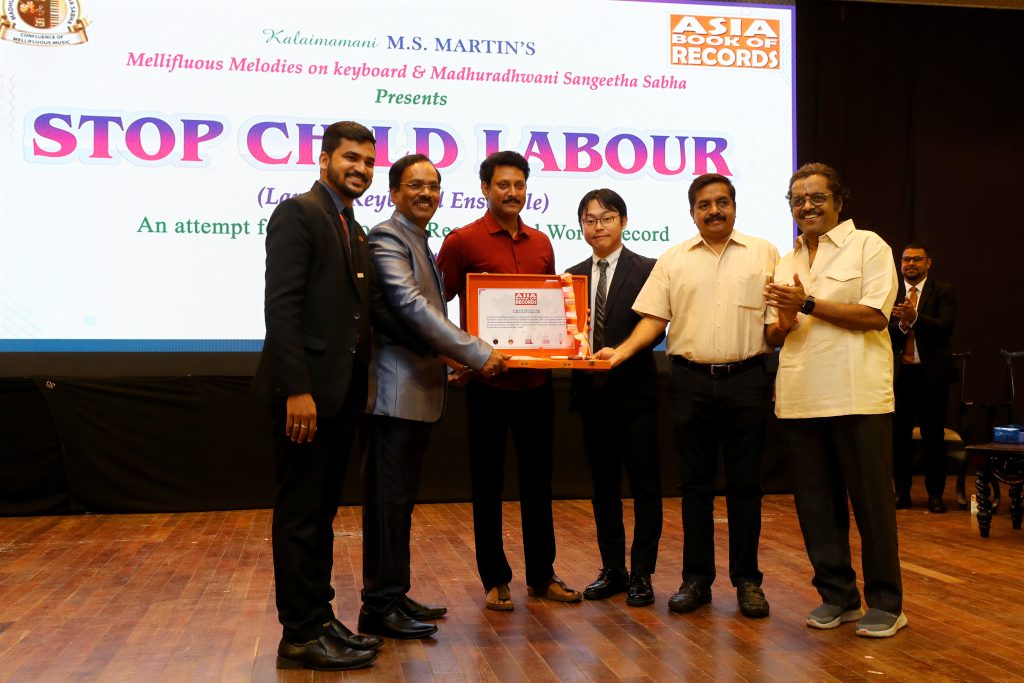 A pioneer in creating a culture of Carnatic music on the keyboard, Martin is known for his unique talent and style of writing notations for Carnatic composers. He is the grandson of Nadhaswaram maestro Shri Gnana Prakasam and the son of Mariya Susai, a Clarinet artist. Martin got the  Isaimamani Award in 1993 from Annamalai University. Earlier also, he conducted three large-scale social awareness campaigns through music, setting records in 2011, 2014, and 2017. As a versatile artist, Martin began his musical journey with Sivan Arts Academy and later founded his institution – Mellifluous Melodies on Keyboard. Through his music school, he has trained hundreds of students in Chennai, Bangalore, the UK and the USA.
A gold medalist himself, in BA- Music from Annamalai University, Martin has been energizing the lives of children, with Carnatic music on a Western musical instrument. He has a keen eye for young talent and has always worked to bring child prodigies to notice. Working purely on instinct, he set about fusing two musical cultures. "I wanted to replicate what I learnt on the harmonium through the keyboard," he says. The process was cumbersome, he started off with the most primitive of keyboards 30 years ago, and it was difficult for him to reproduce the authentic strains of the ragas. But, with time, keyboards came with modifications in favour of Carnatic music.
After a major performance in 2011, Yamaha company approached him and asked how he would like the keyboard to be tuned. Martin requested Yamaha to include an adjustable pitch blender that would help the keyboard produce Carnatic music in its purest form. It can be turned off while playing Western tunes so that there will be no Carnatic undertone to it. In an earnest attempt to bring accompanying instruments like the Keyboard into focus, Martin founded Madhuradhwani Sangeetha Sabha which showcases budding talents in instrumental music. It hosts a week-long music festival at Arkay Convention Centre and many other awareness concerts as well for the past two years.
Martin has organised various concerts and events pan India, at places like The Music Academy, Narada Gana Sabha, Bharathi Vidya Bhawan and Tamil Isai Sangam – Isai Vizha (Annual Music Festival) in Raja Annamalai Mandram. His concerts with his disciples at Thiruvayaar, Tirupathi and Shirdi have won the admiration of laymen and connoisseurs alike. He has got admiration from luminaries like TV Gopalakrishnan, M Balamuralikrishna, Haridwaramangalam, AK Palanivel, Gangai Amaran, Padma Bhushan SP Balasubramaniam, Vikku Vinayakram, Violin Maestro Chandrasekaran, Veenai Gayathri, Mellisai Mannar MS Viswanathan, Violin Duo M Lalitha and Nandini.