Fastest Sand to Snow drive by a group
EVO India set a new record for fastest driving from sunny deserts of Thar to snowy mountains of the great Himalayas by covering 1300 kms in 24 hours in a Mahindra Jeep Model – Thar. The daredevil team moved from a 40 degrees hot environment of Jaisalmer to minus 4 degrees icy cold region of Jispa in Himachal Pradesh within 24 hours. EVO India is a motor driving magazine published from Pune, Maharashtra, whose editor Sirish Chandran set this record while driving a car himself. Two Mahindra Thar vehicles were used in the expedition. In one vehicle Sirish was accompanied by motorsport Arjuna Awardee and India's best rally driver Gaurav Gill, while the other Thar had a team of two professional drivers – king of the mountains and five-time Desert Storm winner Suresh Rana and king of the desert Madan Choudhary. For the photography, Rohit G Mane, chief photographer, and Abhishek Benny, senior photographer, both from EVO India, were also sitting in these vehicles with their cameras and drones to capture the best shots. Both the Thar vehicles involved in the expedition were powered by 150bhp petrol engines with automatic transmission.
Sirish said that as per Google Maps, the distance from Jaisalmer to Manali was less than 24 hours, while the reality was different. His team was on the sand dunes, 80 km west of Jaisalmer city in Rajasthan and had to cross the Atal Tunnel in Himachal Pradesh and move north where snow could be found. Due to the summer season, there was no snow to be found in the Manali area, for that one had to go towards Lahaul Spiti. A considerable distance in between had to be covered on the highway, where driving at constant high speed is a mentally exhausting task.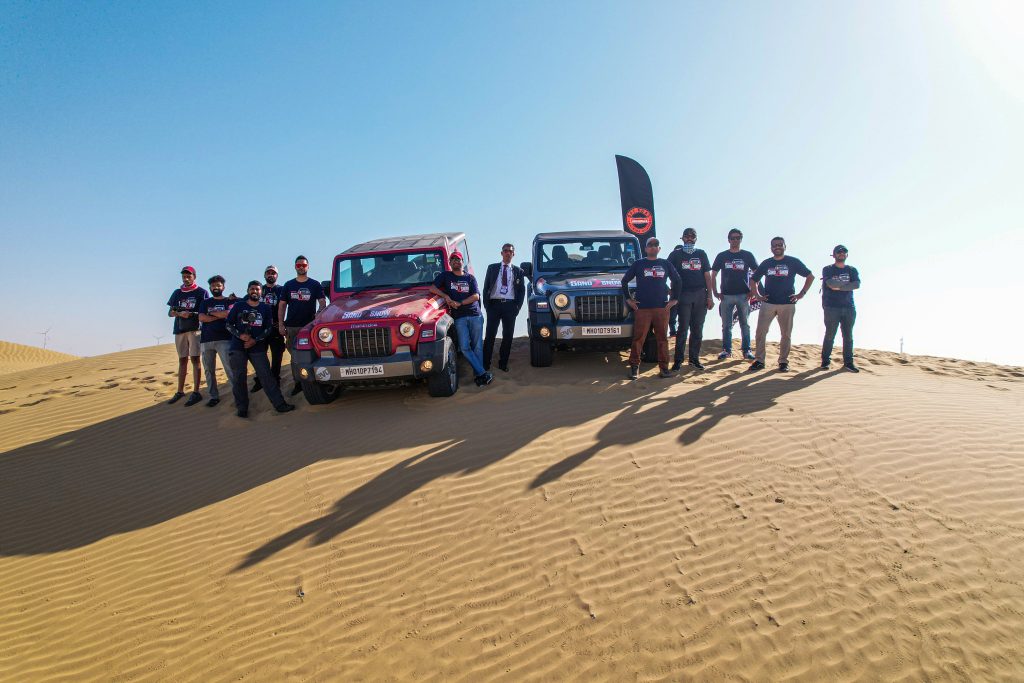 Both the vehicles crossed Hisar in Haryana and halted for dinner at Kaithal. They began at 10 am and covered 750 km at an average speed of 70 kmph. After Kaithal they reached Kiratpur Sahib via Chandigarh, Rupnagar and Bharatnagar. Tractor trolleys run a lot in Punjab, but nothing like that was found on the roads in the night. To reach Manali, they had yet to cover 240 km. The construction of a new road on the mountainous route was in full swing, forcing the traffic to crawl at an average speed of 20 kmph through several diversions, muddy passages and dust. They rested for a while in a hotel located at the mall in Manali, as there was no point in going to a snowy area in the dark. In the final leg of the journey, the vehicles reached the Lahaul-Spiti Valley via the Atal Tunnel.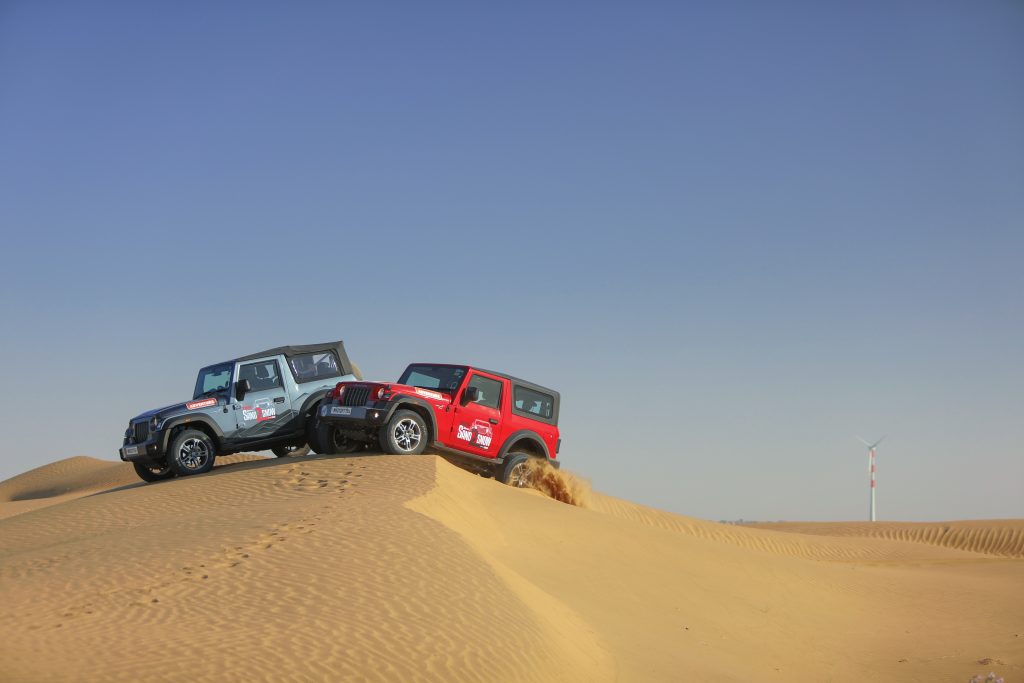 Leaving behind a lone petrol pump at Tandi, the district headquarters at Keylong, the mountain goats clambering up the cliffs, they finally reached the banks of the snow-draped river banks at Jispa. Mohit Vats, the India Book of Records adjudicator handed over the official record medal and certificate. It was a new record for covering 1299.4 km distance in 22 hours, to get from sand dunes to snowy mountains.
"It's a new endurance record but one with a difference, one that highlights the immense diversity of our country, where you catch the sunrise over the dunes and, a mere 24 hours later, the rising sun over the snow-capped Himalayas. One that treats you with spectacular roads, and then grinds you down with unimaginably atrocious ones. A country that, in the span of 24 hours, takes you from searing 40 degrees to a bone-chilling minus four. Turns out 24 hours is plenty of time to explore our country, especially when you're behind the wheel of a Thar," adds Sirish Chandran.