'Men in Menstruation' Kamrup sensitises Men-folk
Creating another milestone in the health and hygiene sector, the Kamrup district administration on May 30, 2022, made it to the India Book of Records (IBR) by successfully organizing the largest menstrual training programme for men at a single venue and on the same day in the Hindi language. The mega training programme was held at the main auditorium of the Indian Institute of Technology (IIT) Guwahati, Assam, where 1,109 male participants took training regarding maintaining hygiene during the menstrual periods of females and other social issues related to menstruation.
According to Ms Shehnab Sahin, Assistant Commissioner, the Kamrup district administration has been conducting various sensitization programmes covering different sections of the society, such as providing online training regarding maintaining health and hygiene during periods and eliminating taboos related to it. By organizing such a mega training programme for males, the Kamrup district administration in Assam achieved another record in this field. After the event, IBR adjudicator, Jitendra Kumar Jain presented the certificate of setting a national record to the Deputy Commissioner, Kamrup. A video featuring women and the menstruation-related challenges they experience was also screened.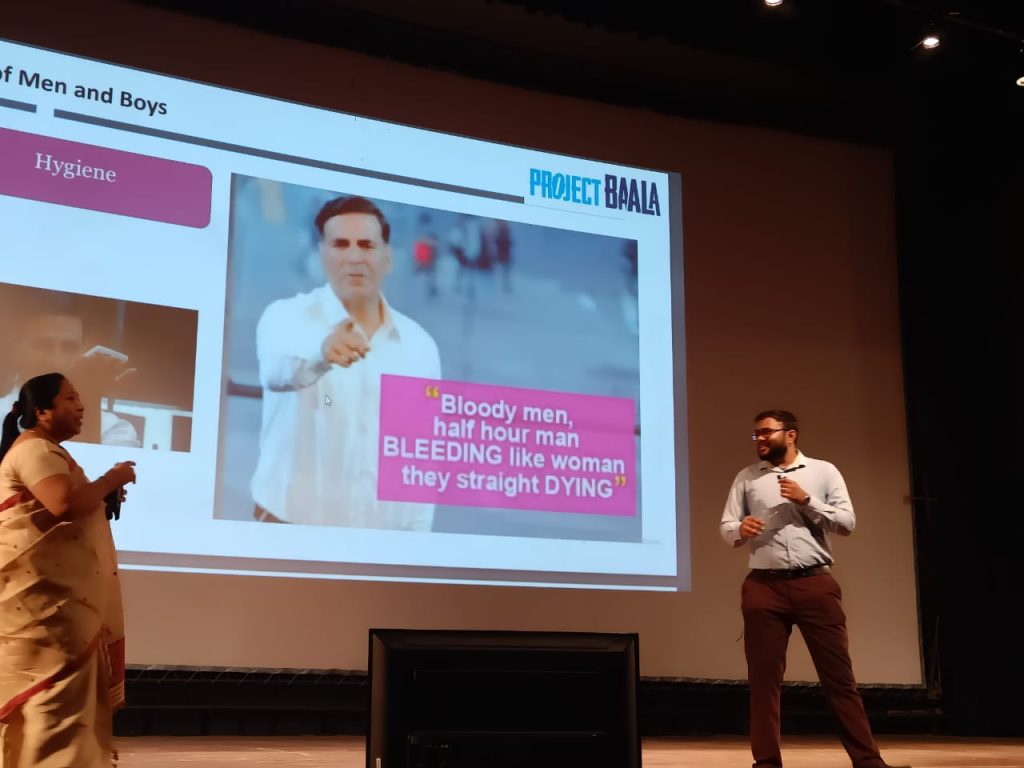 Before the commencement of the training session, the Deputy Commissioner in his speech highlighted various steps taken by the district administration over the last year. Dr T G Sitharaman, Director of IIT Guwahati also addressed the gathering. It was stated that discrimination against menstruating women is widespread and periods have long been taboo and considered impure. Menstruating women are often excluded from social and religious events, denied entry into temples and even kept out of kitchens. To address this, a street play busting the myths related to menstruation was also staged.
Earlier, with a view to spreading awareness on menstrual hygiene management and the issues faced by women during menstruation, the Kamrup District Water and Sanitation Committee celebrated a month-long menstrual hygiene and sanitation programme from April 28, 2022, that culminated on May 28, 2022. The month-long campaign saw various activities including the distribution of 28,000 free reusable sanitary pads of Project Baala amongst adolescent girls of classes VIII, IX and X in Kamrup district and an awareness session on menstruation which is a natural biological process, that affects half of the world's population at the reproductive age of 12 to 49 years.
Schools also organised drawing, essay writing and slogan writing competitions for students on the subject of menstrual hygiene. Apart from this, a Block level awareness meeting was held for ASHA (accredited social health activist) workers, focussing on menstrual hygiene, sanitation and proper waste disposal. ASHA worker is a community health worker instituted by the Ministry of Health and Family Welfare as a part of India's National Rural Health Mission.
Previously, the Kamrup District Water and Sanitation Committee organised online meetings on menstrual health and hygiene on the 28th of every month to generate awareness amongst the community. In addition to this, in a report of the National Family Health Survey-4 (NFHS-4), it was stated that girls and women between the age of 15 and 24, especially those living in rural areas of Assam, need more awareness about menstrual hygiene.