Biggest Portrait Rangoli of our PM
To celebrate the eight years since Prime Minister Narendra Modi joined office and to commemorate the birthday of Transport Minister Nitin Gadkari, a huge Rangoli art was prepared by a team of 13 artists under the leadership of renowned Rangoli artist Ms. Madhuri Satish Suda in Amravati, Maharashtra, who created a new record. Madhuri Suda has received many accolades and awards in the past for her artistic works and unique talent. She has established a dozen records till now. This unique event of rangoli making was organised by Shubham Art Classes.
A huge quantity of six tonnes (6000 kg) of Rangoli colours was used to create the portrait, which was made by 13 artists from the city. It took 7 hours and 7 minutes to prepare the portrait of Prime Minister Modi with the colours of Rangoli. Apart from the picture of Modi, six important schemes of the central government were also shown in it, which included Namami Gange, Swachh Bharat Abhiyan, Make in India, Pradhan Mantri Jan Dhan Yojana, Beti Bachao Beti Padhao Abhiyan, and Pradhan Mantri Ujjwala Yojana. The work of making Rangoli started on 26 May 2022 at 11.10 am and was completed at 6.17 pm the same day.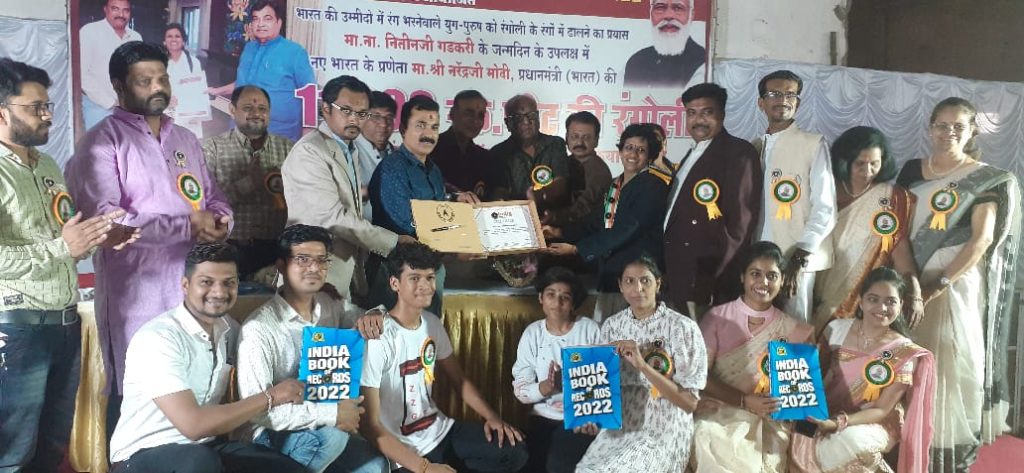 Kamal Panjwani, Director, Achievers Hub of Education and Talent Pvt Ltd said that Narendra Modi took oath as the Prime Minister for the first time on 26 May 2014, and the historic step has completed full eight years. To make the occasion memorable, Shubham Art Classes planned a grand event in Amravati. It was thought that why not make a huge picture of Prime Minister Modi through the Rangoli art. May 27 was chosen to unveil the art as it was the birthday of Nitin Gadkari. This huge painting of Rangoli was organized in the biggest hall of Vidarbha, where a rangoli of 11,011 square feet in size was made.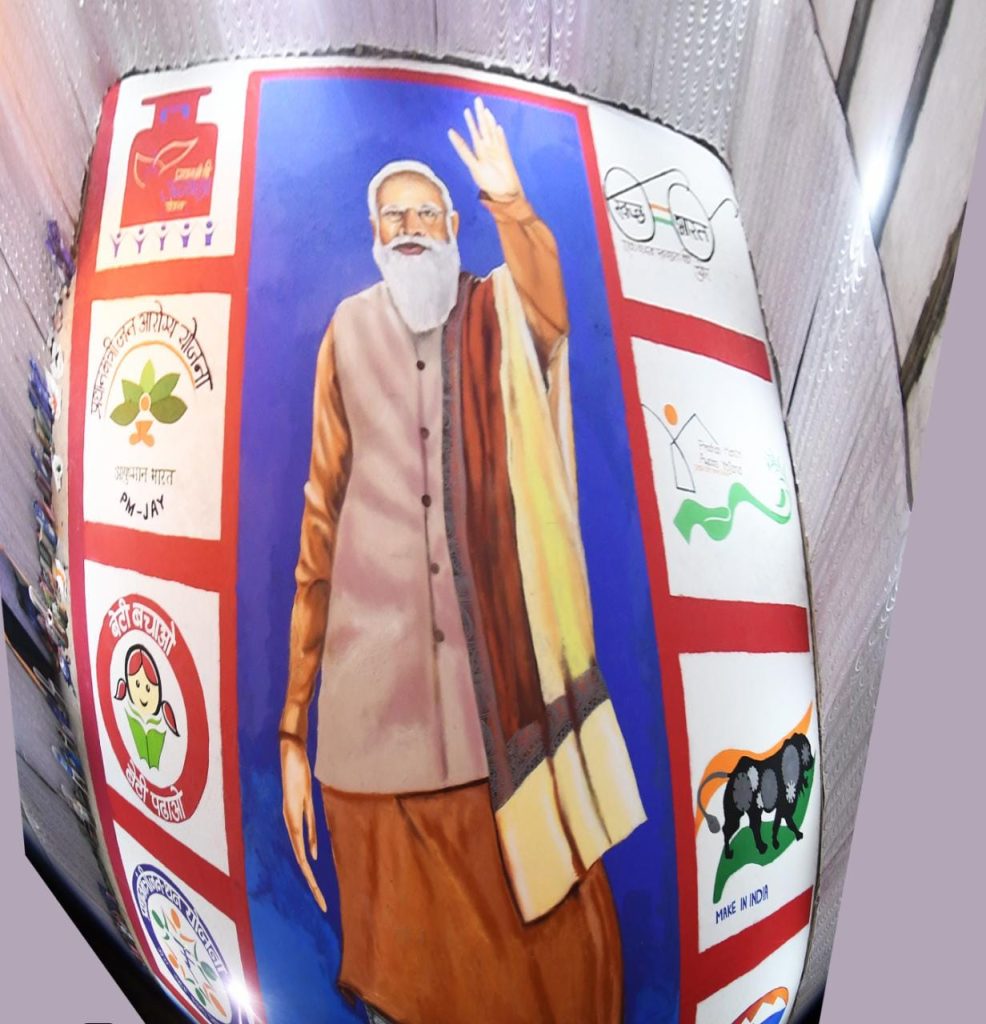 The Rangoli with the portrait of Prime Minister Modi was so grand and huge that it set a new record, which has been registered in the India Book of Records (IBR). Premchand Agrawal, Director of Gangor Events, Amravati, along with the main organizer Mrs. Madhuri Satish Suda went to meet Shri Nitin Gadkari to invite him to the event. The minister then conveyed his best wishes for the programme and encouraged all the artists to work well.
The artists who contributed to making Rangoli included Sunita Karva, Kishore Burange, Pragati Suda, Shubham Suda, Neha Rathi, Manisha Bhutda, Atul Aswar, Pankaj Deshpande, Sagar Vishwakarma, Priyanka Patil, Shubham Gawande, Yogita Renge, and Vandana Lavde. Neeta Mundra took over the responsibility of conducting the stage. Ashok Soni, Swapnil Soni and Amol Soni of Mani Ratna Resort & Hotels provided the sprawling venue for this Rangoli event. The resort is located on Nagpur Road in Amravati. The photography work was undertaken by Jai Photo Studio. The Rangoli was displayed free of cost to the general public of the city.