Single-minded devotion to Bharatnatyam
The record for the longest duration to perform Bharatanatyam was set by Arnavi Sagar Racharlawar (8) of Wardha, Maharashtra, who performed Bharatanatyam on June 4 nonstop for 3 hours and 39 minutes.
The dancing star of Wardha, Maharashtra, 8-year-old Arnavi, is studying in grade 3 at Channawar's Vidya Mandir. The proud daughter of lab technologist couple Sagar Racharlawar and Deepali Racharlawar has been brought up and groomed in an atmosphere where she started her classical dance journey with Bharatnatyam training at the tender age of 3. Arnavi has been trained for 5 years under the guidance and electrifying mentorship of Guruji Sachin Dambhare.
During the pandemic when schools remained closed and learning was shifted to online mode, she practiced a lot at home and participated in many online dance competitions. Once the government started gradually unlocking the city, and life turned to normalcy, Arnavi began participating in some offline dance competitions as well. She secured ranks and was honoured with a heap of more than 138 awards and prizes. Now the certificate from the India Book of Records is her topmost possession.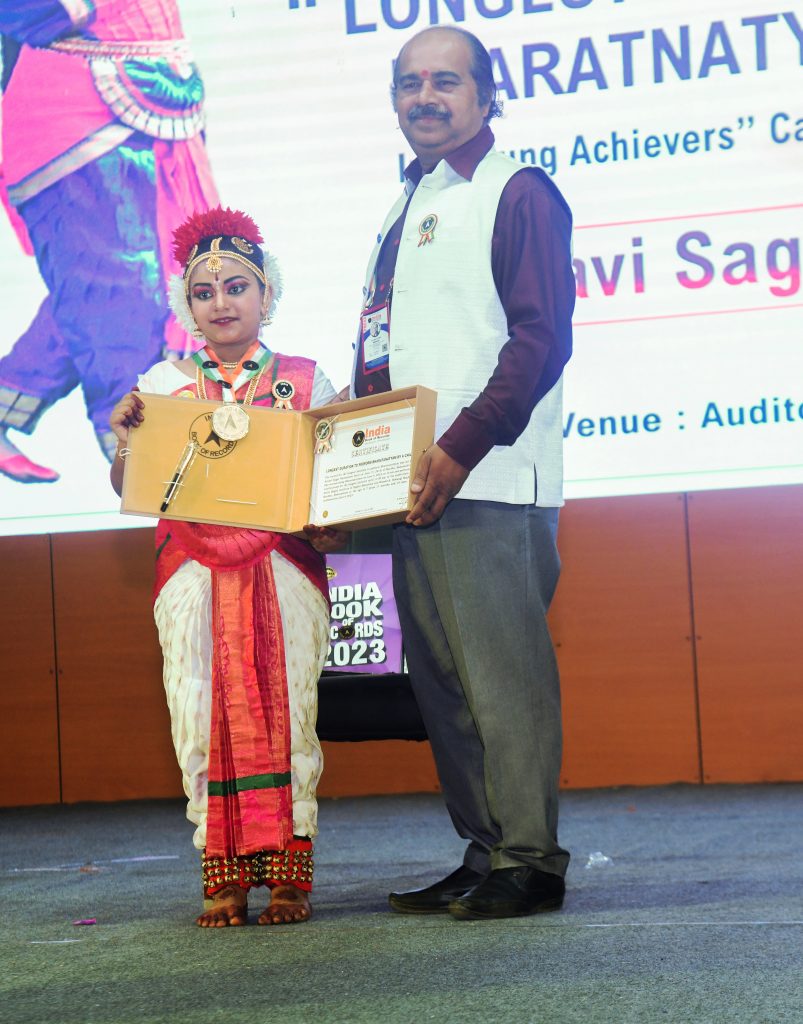 Looking at her single-minded devotion to the dance practice and excellence in her performance, one day her dance teacher predicted Arnavi's possible record-making performance soon. It became a reason and inspiration to both Arnavi and her parents to step into another avenue of the dancing world. Finally, after getting the information and idea about the India Book of Record, from Suraj, a family friend of the Racharlawars, Arnavi's application was moved for the longest duration Bharatnatyam dance performance.
Talking to the India Book of Records magazine, her father Sagar Racharlawar said that Arnavi started her systematic dance practice for 3 to 4 hours every day for more than one and half months. She maintained her diet, consumed multivitamins, and Calcium properly, and ensured a regular medical checkup too. Arnavi's dream performance was held on June 4, 2023, at the well-equipped auditorium of Datta Meghe Institute of Medical Sciences in Sawangi, Wardha.
District collector Rahul Kardile, Superintendent of Police Nurul Hassan, CEO of DMIHER Sawangi Abhyuday Meghe, Vaishali Yerawar, former Vice President ZP Wardha, Pediatric practitioner and President of VJM Dr Sachin Pawade, and Channawar's E Vidya Mandir director Dinesh Channawar were the eminent guests who witnessed the momentous performance. She started her performance at 10.46 am and continued dancing for 3 hours and 39 minutes. At the time of the record-making attempt, she was exactly 7 years, 11 months and 18 days old.
The India Book of Records adjudicator Manoj Tatwadi verified the claim and announced the record. He presented the certificate and the medal to Arnavi and congratulated the child. Later, Arnavi also took part in a short film 'Aakrosh' based on the problem of female infanticide. Besides dancing, she spares her time for other hobbies too like drawing, painting, and crafts. She is doing well in academics also. Her dream is to continue attempting new challenges and reach the pinnacle of performance.