30 Days 30 Plays
The record for maximum Hindi comedy-drama shows directed in a month was set by Triveni Prasad alias Sangam Bahuguna of Lucknow, who directed 30 plays at the fest organised by Manchkriti Samiti Theatre Group.
Theatre lovers in Lucknow, the capital of Uttar Pradesh, witnessed a month-long comedy play festival '30 Days 30 Plays' held from February 3, 2023, to March 4, 2023. The organiser of the comedy festival, Triveni Prasad alias Sangam Bahuguna got recognition from the India Book of Records under the category of 'maximum Hindi comedy-drama shows directed in a month'. All the plays, directed by 68-year-old veteran theatre personality Sangam Bahuguna, were staged at Sant Gadge Auditorium of Sangeet Natak Academy, Gomti Nagar, Lucknow. The actor-director has played the antagonist role in the movie 'Youngistan' and has featured in projects like 'Madam Chief Minister' and 'Dosti Zindabad'.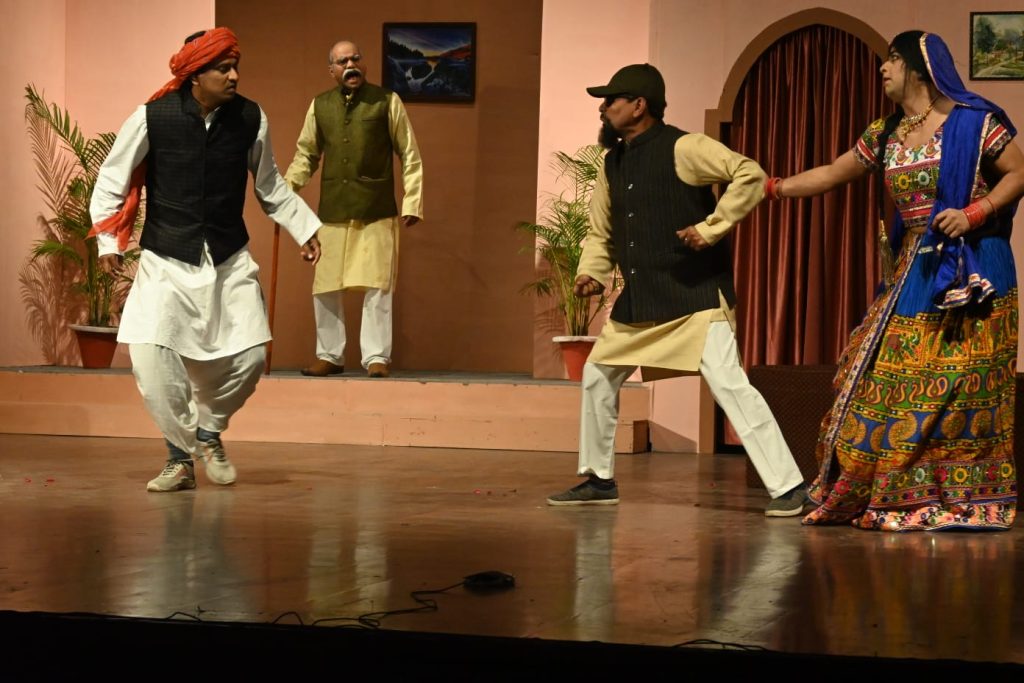 "They were all original Hindi plays penned by stalwarts from the theatre industry. The genre we opted was comedy to bring some cheers around. The festival opened with legendary writer Bharatendu Harishchandra's play 'Andher Nagri'. All the stories selected for the fest were penned by ace writers like KP Saxena, Urmil Kumar Thapliyal, Daya Prakash Sinha, Ramesh Mehta, and Mani Madhukar. I directed all the plays, but to make the process smooth, I appointed team leaders who assisted me with direction and practice sessions. We received support from almost everyone from Lucknow's theatre fraternity," said Bahuguna of Manchkriti Samiti, founded in 1990.
The team started preparations for the comedy fest in May 2022. Arranging funds was the biggest challenge as the project involved around 130 artists. Initially, it seemed a mission impossible, but people started joining the team after some rehearsals. Bahuguna thought of leaving a legacy behind by organising the mammoth festival of comedy plays. He wanted to do something different hence the comedy fest '30 Days 30 Plays' came into existence that created a record. Veteran theatre personality Lalit Kumar Pokhariyal, who acted in two of the plays and has done films like Kaagaz, Raat Akeli Hai, and Wah Taj, said, "I acted in popular plays 'Behrupiye' and 'Dularibai'. The fest was one of its kind and will be remembered for a long time."
The 30 plays included Andher Nagri (Bharatendu Harishchandra), Gorakhdhandha (Jaivardhan), Hamsa Ho toh Samne Aye (Vikas Shrivastav), Dhong (Ramesh Mehta), Dushman Urf Sainya Magan Pahalwani Mein (Daya Prakash Sinha), Chandramukhi (Amrit Kashyap), Panchnama (Tapan Bhatt), Damad Ek Khoj (Tapan Bhatt), Ek Machine Jawani Ki (Santosh Nautiyal), Bade Aadmi (Ramesh Mehta), Apne Apne Daon (Daya Prakash Sinha), Tajmahal Ka Tender (Ajay Shukla), Under Secretary (Ramesh Mehta), Nai Sabhyata Naye Namoone (Dr Shankar Shesh), Baap Re Baap (KP Saxena), Dularibai (Mani Madhukar), Sunday Wedding (Urmil Kumar Thapaliyal), Jaisa Tum Kaho (Jaivardhan), Dil Ki Dukan (Rajendra Sharma), Gaj Foot Inch (KP Saxena), Hi Handsome (Jaivardhan), Ek Se Badhkar Ek (Rajendra Sharma), Honeymoon (Vivek Chatterjee), The Great Raja Master Drama Company (Dinesh Bharati), CM Sahiba (Vinod Mishra), Kahiye Huzoor Kaisi Rahi (Rakesh Manjul), Mastmaula (Jaivardhan), Hamsafar (Amrit Kashyap), Afsos Hum Na Honge (Ranveer Singh) and Double Doze (Dinesh Bharati).