MOST PIANO NOTES PLAYER WITH BOTH HANDS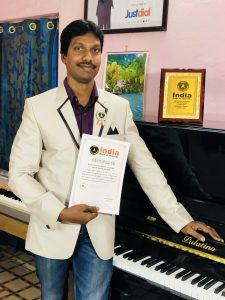 Some persons do their work as if they are worshiping. Their skill and hard work become the evidence of the event. Time passes but their activities become immortal. Your hard work has proved that this job was destined for you. Your achievement speaks itself about your capability.
T. S. Satish kumar (born on November 16, 1975) of Secunderabad, Telangana, India, became the Most Piano Notes Player with both hands as on January 16, 2018. He played 1998 notes in 1 minute and 43 notes in 1 second at The Plaza Hotel, Begumpet, Secunderabad.