Mass Weddings of Specially-abled Pairs
People with physical disabilities face a hoard of difficulties. While on the one hand, they face trouble in getting an education, making a career, and arranging livelihood, on the other hand, their marriage is considered a very complicated social issue. Most of disabled persons remain unmarried because of all these hindrances. Realizing the gravity of the issue, Dr. Rahul Vedprakash Patil, MBBS, who is a second-time MLA from Parbhani, Maharashtra, envisioned a mass marriage ceremony in which differently-abled couples would be married according to their religion and customs. The idea became a hit and it turned out such a unique event that a new national record was set under the India Book of Records.
Dr. Patil first of all planned to organize an introductory meeting for young boys and girls with physical disabilities who wanted to get married. For this, interested boys and girls were invited along with their families by announcing through newspapers, TV, and social media. The introductory meeting was held at Akshada Mangal Karyalaya, Parbhani. It was attended by about 150 persons, out of which 35 couples agreed to tie the knot. The date of the mass wedding ceremony was fixed as May 10, 2022.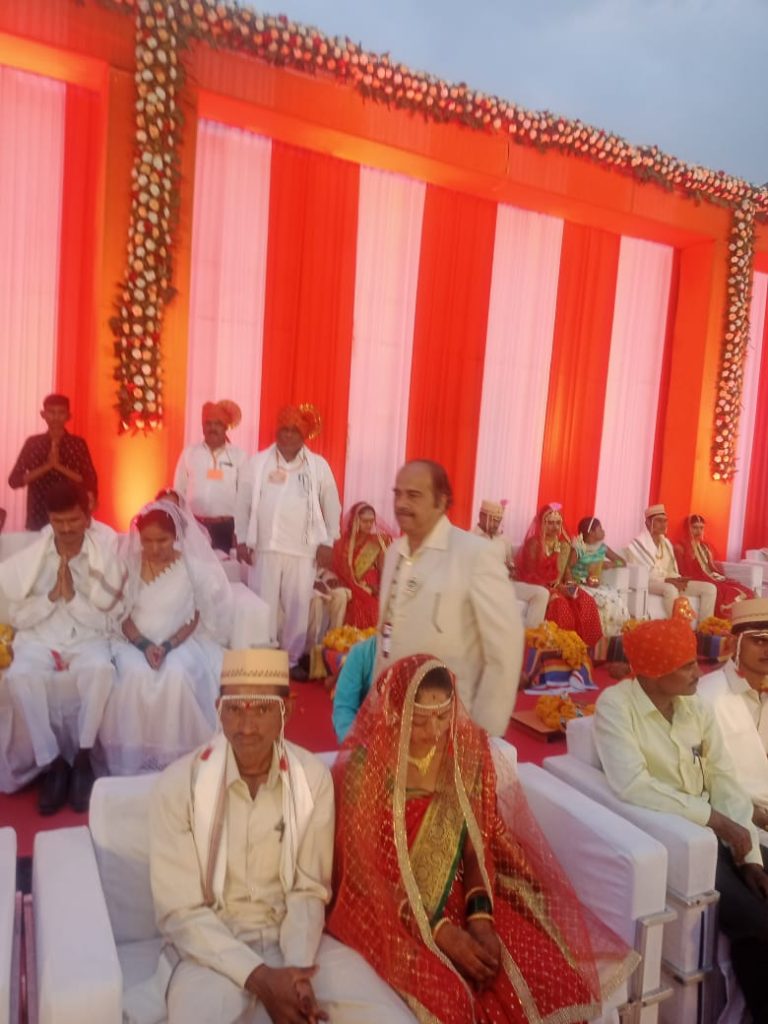 It was a grand event, for which like-minded individuals and social organizations from Parbhani, Aurangabad, and Nanded extended financial contributions. The mass marriage function of differently-abled couples of Maharashtra commenced at Nutan Vidyalaya Ground, Jintur Road, Parbhani at 7 pm. Social Justice Minister of Maharashtra Dhananjay Munde and Tourism Development Minister Aditya Uddhav Thackeray were present as the chief guests of the program. To confirm the national record, Dr. Manoj Tatwadi, Adjudicator of India Book of Records also reached Parbhani from Nagpur.
Dhananjay Mishra, Secretary of Yuva Rashtra Social Welfare Society, Akola, said that about 70 thousand people participated in this unique marriage ceremony, out of which 15 thousand people participated on behalf of the newlywed couples. The 35 specially-abled couples who got married, belonged to different religions like Hindu, Muslim, Christian, Buddhist, etc. The marriage of all was done according to their faith by their religious leaders. After the marriage, all the 35 newly married couples were given gifts, such as beds, clothes, utensils, etc. to start a new life. Apart from this, a three-wheeler was also presented to each differently-abled couple to facilitate their movement.
Maharashtra's Social Justice Minister Dhananjay Munde announced on the occasion that this is a unique initiative and, in the future, whenever such marriages are organized in this manner, financial assistance of 50 thousand rupees will also be given to each newlywed couple from the state government.
Dr. Rahul Patil has done MBBS, and he has become MLA for the second time from Parbhani. He also runs several educational institutions. His father was formerly the Vice-Chancellor of the Agricultural University in the state.