Precision Farming producing Word Formations
It is said that if a pledge is done with sincerity, some day it will surely get materialized. One such pledge was made 36 years ago by Mukeshbhai Dungarshibhai Chavda, a resident of village Ghetti of Taluka Palitana, district Bhavnagar in Gujarat, which not only has now turned into reality, but this work has also got his name mentioned in the India Book of Records. Mukeshbhai does farming as well as runs a sweet shop also, that's why people also call him 'Doodhwala'. He prepares sweets from milk and sells it. He is 48-years-old and has two sons. He dropped out in 1991 when he failed for the third time in the high school exam and started the sweets business the following year.
In the year 1986, for the first time, Mukeshbhai listened to the Ram Katha narrated by Sant Morari Bapu on a tape recorder. He kept listening to the Katha again and again. He liked the story of Rama so much that he became a devotee of Morari Bapu. One day it came to his mind that some unique work should be done on any subject related to Morari Bapu. It should be based on an out-of-the-box idea, so that the name of his village Ghetti spreads all over the world. He is also fond of reading Shrimad Bhagwat Geeta, which states that one does not get anything before the time.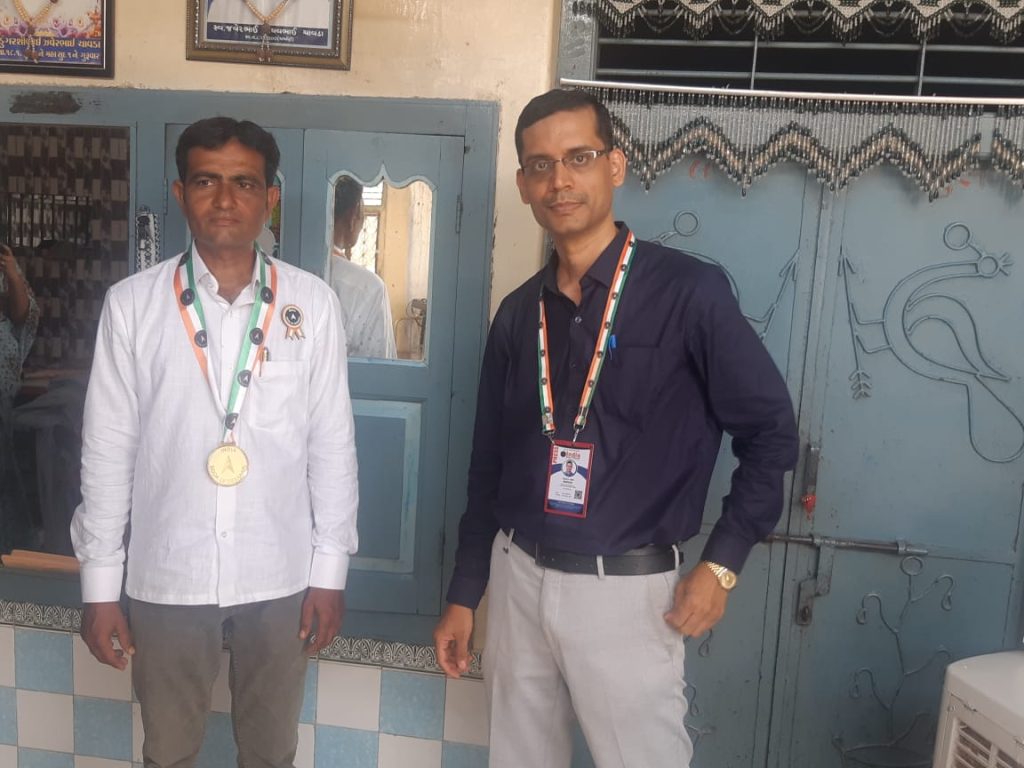 For the entire period of 36 years, he kept repeating his dream and vow. After finishing his routine work, he is in the habit of listening to the thoughts of saints and great leaders in the evening. He mostly watches the inspiring videos of Prime Minister Narendra Modi, actors Amitabh Bachchan, Gyanvatsal Swamy, Sanjaybhai Rawal, Suresh Semwal, and Shri Savjibhai Dholakia among others. Hearing their thoughts, he got inspired to make his dream come true.
Last year, when his son Ravi got a job as a teacher in Talagjarda village of Morari Bapu, he realized that his resolution was also probably about to come true. One day, sitting in his field, he started writing Morari Bapu's name on the soil with a finger. After this, the thought came to his mind that why not highlight the keywords of Morari Bapu in the field through farming. Satya (truth), Prem (love), and Karuna (compassion) are the favorite words of Bapu. He thought of highlighting these words in the field.
Before starting work, he decided to check on Google and YouTube to find out if anyone else in the world has ever done anything like this before. When nothing of this sort was found, then on February 10, 2022, he sowed millet (bajra) on 1.8 acres of land by writing words like Morari Bapu, Satya, Prem, and Karuna in the field. This work took three days (72 hours) for perfection. The letters were written with the help of a tractor and millet was sown on them. If the letters were not formed properly, they were rewritten. The help of a drone was also taken to check the shape of letters. This initiative created a record whereby the name of Mukeshbhai and his village Ghetti got mentioned in the India Book of Records. In this way, his 36-year-old dream came true.