MAHATMA GANDHI PORTRAIT WITH MOST PAPER CLIPS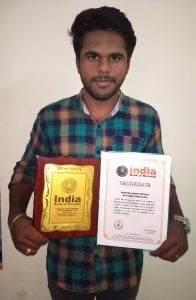 Portrait formation is a good art which keeps something live in our mind and the posture of this portrait expresses its feelings what the world remembers with the problems. When we want to create a discussion, it helps to evoke the event.
Gokul Raj R (born on March 16, 1999) of Tamil Nadu made Mahatma Gandhi Portrait with Most (32,410) paper clips, joining and chaining to form 10 x 6 ft outline in 1 hour and 45 minutes as on October 10, 2017.