LARGEST SELFIE STAND FROM WASTE MATERIALS & GARBAGE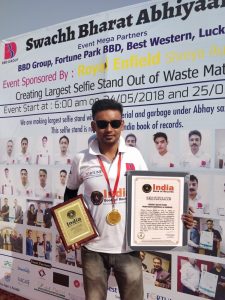 Good performer does not wait for a good opportunity to do something well, it is his natural style. The only way to do great work is to love what you do. A lot of people failed at what you accomplished. You always show uniqueness in his performance.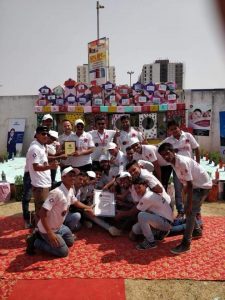 Abhay Saxena (born on July 5, 1990) of Lucknow, Uttar Pradesh, made the 11ft 7inch × 23ft 10inch Selfie Stand From Waste Materials & Garbage, like waste bottles, cold drink canes, newspapers etc. to spread the message of Swachh Bharat Abhiyan and recycling waste, in association with BBD Group, Fortune Park BBD hotel and Royal Enfield Shreya Auto World Pvt. Ltd, wherein Largest Selfie Stand was made by him and his team, at BBD Green City Ground, Lucknow, Uttar Pradesh, from 24 May to 25 May, 2018.