YOUNGEST WRITER IN THE FIELD OF PSYCHOLOGY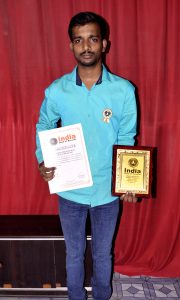 To be a Writer, shows your interest in reading and writing. Your work is going to fill a large part of your life. Success is the sum of all small efforts, repeated day in and day out. The secret of success is to treat any job as worship.
Ankit Kumar Verma (born on April 14, 1999) of Allahabad, Uttar Pradesh, wrote a Psychology Book – "CAN I", Published by Bluerose Publications with ISBN No. 978-93-87038-72-1 in November 2017 and thus he became the Youngest Writer in the  Field of Psychology.