BIGGEST ANNUAL EVENTS TO PROMOTE PHYSICAL LITERACY IN CHILDREN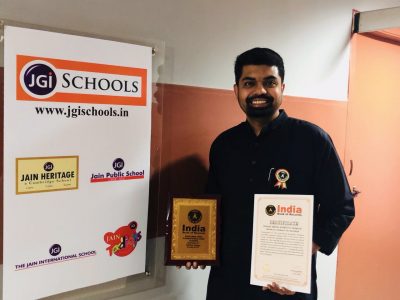 An event refers to alerting the general public that a certain issue exists. An attractive performance which gives a thoughtful message  to  the people, makes the event memorable for a long time.   
Chandrashekar D P, CEO of JGI Schools, Hyderabad, Telangana State, India successfully organized an Annual Event of JGI Schools, "Sea of Change", in Hyderabad to promote 'Physical Literacy in Children during their early years and to spread Awareness among their Parents and Citizens'. The event was held on 28 December 2017 at Gachibowli Stadium, in association with Physical Literacy Days – India. Over 1500 students showcased #1111 Physical Movements through various forms viz., Aerobics, Yoga, Dance, Gymnastics and Sports. The event was witnessed by 4500 people from across twin cities in Telangana.