AN APPRECIABLE MEMORIZING CAPACITY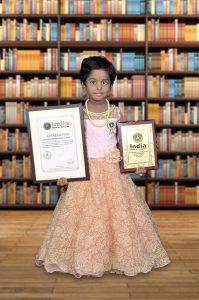 The beauty of a talented child is not on his/her face but in his/her mind which can be seen in his/her action. It is just like the pursuit of happiness which gives a proudly feeling for the family as well as the society.
N. Deshna Amirthavarshini (born on March 03, 2014), Chennai, Tamil Nadu, attempted to identify successfully 200 Flags of World Countries in Shortest Time Period (1 minute and 53 seconds) on May 20, 2018.