YOUNGEST SINGER OF HINDI AND ENGLISH RHYMES AND SONGS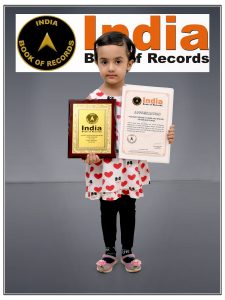 Singing is a creative art which forces its lovers either to plunge into its depth or to swim over its flow. The person who knows singing and has melodious sound can spark a fire of music that stirs and illuminates the dormant heart of a person.
Taruni Joshi (born on October 06, 2014) of Mumbai, Maharashtra, became the Youngest Singer of Hindi and English Rhymes and Songs only at the age of 3 years, She has memorized more than 100 Rhymes/Songs in Hindi and English, as on April 30, 2018.