A BOOK WRITTEN BY A CHILD IN SHORTEST PERIOD OF TIME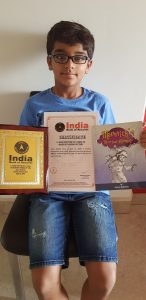 The secret of your success is your proficient brain and your stamina which have unlimited power to make every impossible thing possible instantly. You have proved that the age cannot divert the determination of a person.
Ayaan Kapadia (born on April 23, 2008) of Mumbai, Maharashtra, wrote a Book – Maverick's Marvelous Adventures  (ISBN No. 978-93-87514-71-3), only in 3 days at the age of 9 years 10 months.