1.30 LACS LADDOOS & 1.30 LACS FLOWERS FOR PUJA TO LORD VENKATESHWARA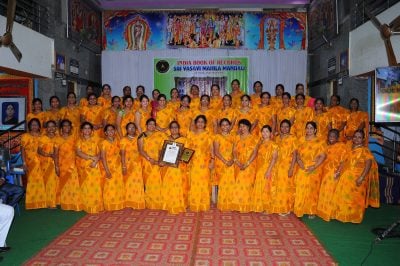 Generally when we show our devotion, especially for god,  love, loyalty, or enthusiasm can be seen profoundly. But there are some unique devotions which create records like this activity.
Vasavi Arya Vyasya Mahila Mandali, Anantapuramu, (A.P.), 1008 Lady Devotees Used 1.30 Lacs Chemanthi Flowers and Distributed 1.30 Lacs Laddoos as Nivedana, on VYKUNTA EKADASHI on 29th December' 2017 at Sree Vasavi Kanyakaparameshwari Temple at Anantapuramu, A.P.