MOST PEOPLE TRANSPLANTING SEEDLINGS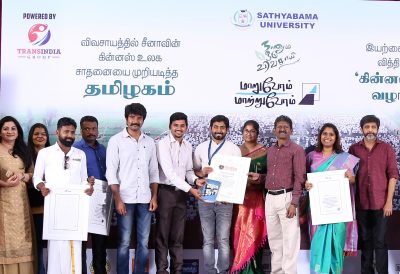 An awareness refers to alerting the general public that a certain issue exists. An attractive performance which gives a thoughtful message  to  the people, makes the awareness  program memorable like it.
Maruvom Mattruvom (An Ngo Run By Actor Aari), Sathyabama University, Transindia & Wow Celebration (All India), Tamil Nadu, organized largest transplanting activity where in 2683 people transplanted 5366 seedlings on August 29, 2017 at Tamilnadu. This activity is for Promoting Organic Farming and Healthy Life for Everyone with the motive 'To let People Know that Farming Is a Life Style and Not a Business' .