Date, time, year are more of calendar, watch things and less of real life and its realities in which we live in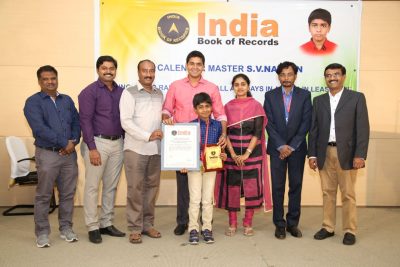 There are certain days, dates which we want to remember always, while forgetting others. However, it is not just important to remember good days, dates, but also bad ones, so that we don't make the mistakes which we had made in the past. Remembering your past life is good for a reality check in comparison to your present circumstances. But this in no way means that you should not be optimistic about your coming life, which is the most important, for a late actor with the evergreen tag had said that if you are not optimistic, you are pessimistic, if you are pessimistic you are dead and no one wants to die.
S. V. Naveen (born on January 19, 2008) of Tirupur, Coimbatore, Tamil Nadu became the Youngest  (9 years 11 months) achiever to randomly recall all 365 days of 2017 in 25.42min at KPR Auditorium, Tirupur, Coimbatore, Tamil Nadu on November 30, 2017.