YOUNGEST GIRL TO GET 3RD DAN BLACK BELT IN TAEKWONDO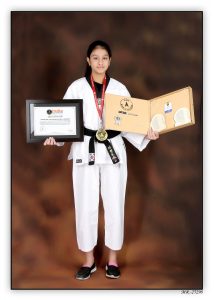 The journey of life is not soeasy as it looks. Some parts of some bodies' life are full of struggle andadventure. Perhaps, they really say that to fight against an enemy is easierthan to face the training of martial arts or Taekwondo. In this session, to get Black Belt isjust like to cross the lake of fire, very few lucky persons can reach up tothis achievement.
The record for the youngest girl to get 3rd Dan(degree/poom) black belt in Taekwondo was achieved by Bhavya Pandit (born onJuly 03, 2004) from Jaipur, Rajasthan at the age of 13. She achieved this featfrom Grand Master Chang Seong Dong, issued by Kukkiwon, South Korea, onSeptember 14, 2017, at Jaipur.