Pradhan Mantri Rashtriya Bal Puraskar 2022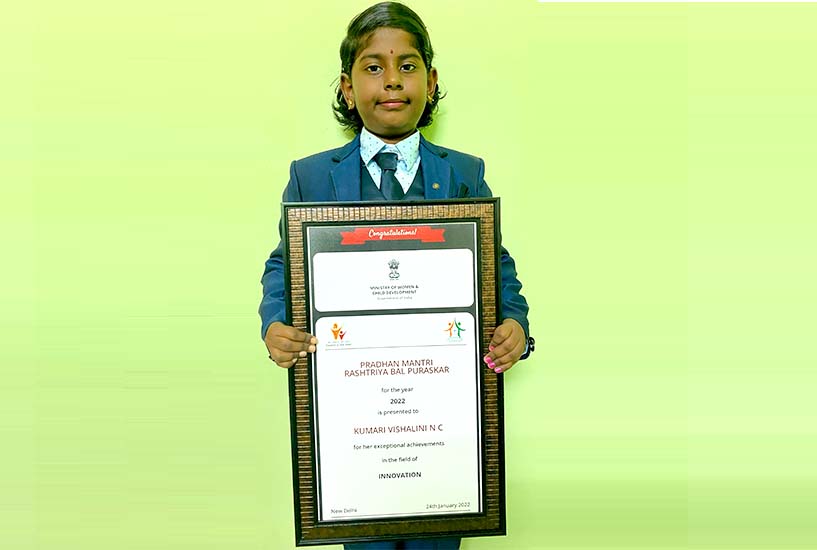 India Book of Records congratulates our esteemed record holder Vishalini N C  for receiving the prestigious Pradhan Mantri Rashtriya Bal Puraskar 2022 for her skills in innovation.
Vishalini N. C is a 6 year old youngest patent holder from Virudhunagar District who invented "An Automatic Multi-Functional Life Rescue Flood House" that can help prevent drowning during floods. Her invention, a floating house contraption, can be used to save the lives of vulnerable sections of people such as children, pregnant women, aged and the physically challenged, pets and important objects during floods. The floating house, with a zippered top, has provisions to keep an oxygen cylinder, a bag of food, water and a first aid kit.
Pradhan Mantri Rashtriya Bal Puraskar, formally known as 'National Child Award', is awarded by the Government of India, to children with exceptional abilities and outstanding accomplishments. It is India's Highest Civilian Honour bestowed upon exceptional achievers below the age of 18 and carries a cash reward of INR.1,00,000/-.
Pradhan Mantri Rashtriya Bal Puraskar (PMRBP) for the year 2022 has been conferred to 29 children. These winners include 15 Boys and 14 Girls, belonging to 21 States and UTs