Protecting nature with eco-bags
The record for 'Maximum non-woven Biodegradable Bags distributed across multiple cities' was set by X-Plosiv Events & Promotions Pvt. Ltd., wherein a total of 55,000 non-woven biodegradable bags were distributed across 28 cities, covering 13 states in India, under the 'Change A Habit, Change the World' campaign by Axis Bank. The campaign started on August 17, 2022, and concluded on September 24, 2022. The initiative has now got into the India Book of Records pages, as the idea of green bags was pushed by Nitin Bhardwaj, the Founder and Director of X-Plosiv Events & Promotions.
Nitin and his wife Pallavi Bhardwaj manage the day-to-day functioning of the company. How the Axis Bank came into the picture? On this, Nitin said, "We proposed the Axis Bank to proceed on the Go Green line by distributing environment-friendly bags. Initially, we considered the bags made of used clothes, jute, etc., but ultimately the non-woven biodegradable bags got the bank's nod and a detailed campaign plan was chalked out. It was Neeraj Raina, Marketing Manager, Delhi-NCR, Axis Bank, who finalized the proposal of biodegradable bags."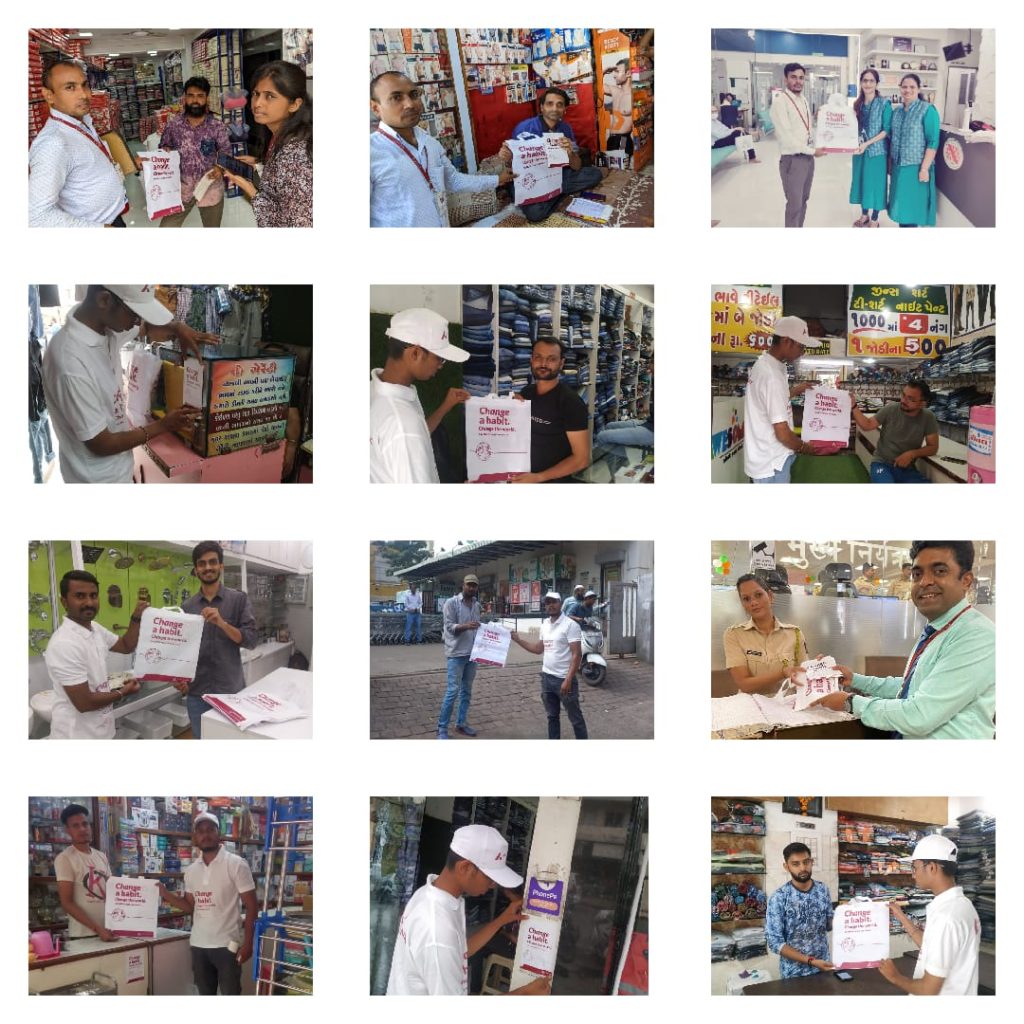 Axis Bank launched the 'Change a Habit, Change the World – Say No to Single-Use Plastic' campaign to raise awareness against single-use plastic. The bank distributed non-woven bags to citizens at select locations in Jaipur, such as Char Diwari, Chora Rasta, Johari Bazar, Kishanpole, and Bapu Bazar. Additionally, it gave out stickers of 'Say No to Single-Use Plastic' to local shopkeepers to reinforce the message on plastic pollution. The campaign was carried out across 28 cities, including Delhi, Lucknow, Ambala, Bengaluru, Chennai, Hyderabad, Mumbai, Pune, Surat, Rajkot, Ahmedabad, Vadodara, Bhopal, Nagpur, Bhubaneswar, Guwahati, Patna, Ranchi, and Siliguri. Extending the celebrations of the 75th year of Independence, the Bank took up the responsibility of creating awareness among citizens about behaviors that affect our environment.
Biodegradable plastics do not release carbon, methane or any other harmful pollutant as a result of which they have the ability to break down, safely and relatively quickly into the raw materials of nature. Earlier also, Axis Bank, had introduced biodegradable cards thereby offering its customers a simple way of contributing towards environment-friendly payment solutions. The cards were made available on select gift card products and were acceptable at all domestic merchant outlets and online portals.
Nitin, born in February 1983, has been in the events management profession since 2001 when he established his own X-Plosiv Events management company. He did his graduation from Uttarakhand University, Haldwani. However, now he is studying further Yoga and Naturopathy. He has already completed the yoga therapist course from the Morarji Desai National Institute of Yoga (MDNIY). Side by side, he is also practicing as a Yoga Therapist, Naturopath, Vastu, and Astrology expert. This is not Acharya Nitin Bhardwaj's first record, earlier also in September 2020, he had created a record under IBR/ABR for organizing the Multi-lingual Global Online Ramlila, as that was the lockdown period and physical events were not possible.