MOST MULTIFACETED YOUNGEST GIRL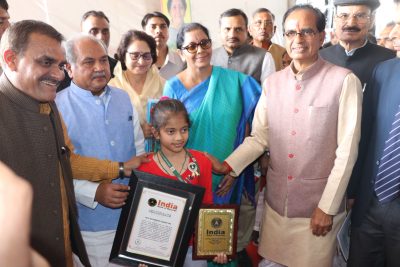 Talent is not a man made thing, it is a natural gift.  Such a type of child  has a special ability to do something well.  It is an ability that someone is born with. Someone who has such a type of  talent is really fortunate, Adrika Goyal  is one of the fortunate children.
Adrika Goyal (born on July 18, 2008) from Morena, Madhya Pradesh became the Most Multi-faceted Youngest (9 years and 5 months) girl,  for being felicitated numerous times in academics, music, sports, art and culture,  in addition of being nominated as the Brand Ambassador of – 'Beti-Bachao – Beti Padhao' campaign of Central Government, along with Black belt in Taekwondo and for the recipient of 'International Gold Medal' in International English Olympiad as on January 1, 2018.