MOST PASSIONATE CYCLIST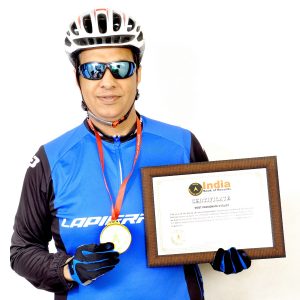 Hard work with positive thought always gives a positive result. In an adventurous field, only a courageous person can perform well and make any expedition memorable. No doubt, such types of persons are real heroes and rare examples of our society.
The record for being the most passionate cyclist was achieved by Gautam Battish (born on April 16, 1973) of Ludhiana, Punjab, as since July 1, 2017, he had cycled an average distance of 34.41 km daily for 474 days till October 17, 2018, wherein he started cycling to stay fit which eventually converted to passion.