Mesmerizing collection of Ganesha idols
Lord Ganesha, the deity of knowledge and wisdom, is the source of inspiration for artists. The Lord graced India Book of Records recently with His collection record via record achiever, Pradip Madhusudan Nand from Akola, Maharshtra. Many artists have been pouring their souls into making idols of Lord Ganesha to find their creativity cornered into some places of worship or drawing rooms. However, Pradip has conceptualized and established a museum – Nand Udyan Ganpati Sangrahalaya at Chikhaldara, a popular hill station of Vidarbha region, where country's first glass made Sky Walk is also being made. Pradip's largest collection (2,544 Ganesha idols) made it successfully to the India Book of Records.
Pradip Nand, who is into real estate business, used to make Ganesha idols with clay. It was his favourite pastime, which turned into passion and he started buying and collecting Ganesha idols from every place or countries he visited. His wife Deepali Nand also helped him in this pursuit. The couple nurtured a hobby and created a grand museum, which keeps buzzing with tourists. The idols of different shapes, from an oilseed to 5 feet in size, are displayed in showcases inside the museum and in the open ground also. Deepali helped to maintain and preserve these idols. It took around 30 years to make this huge collection.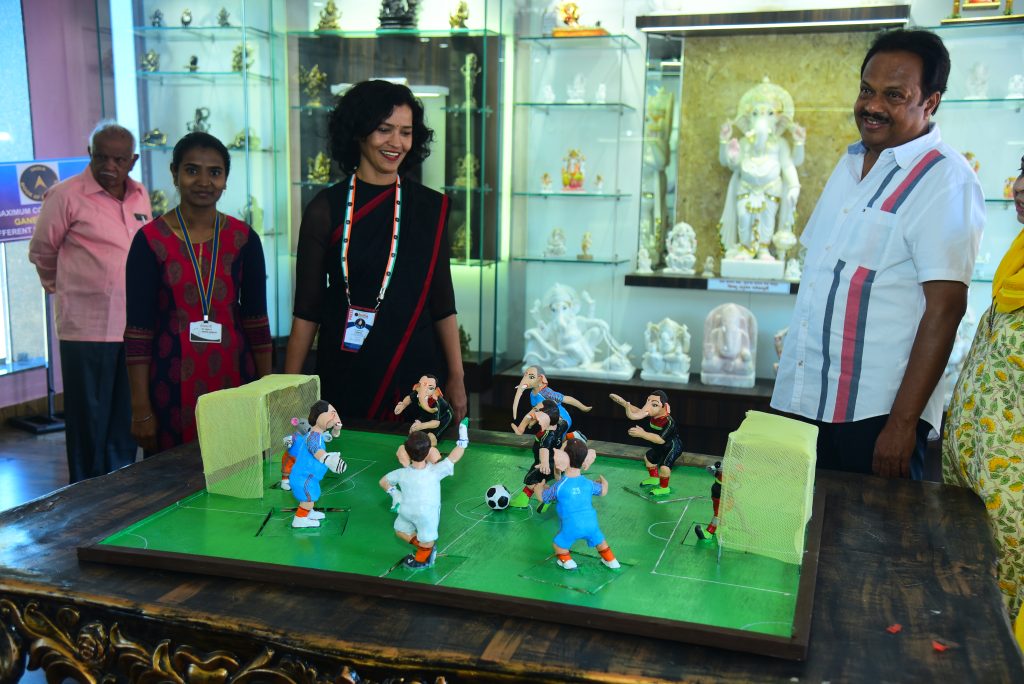 The collection has a variety of idols of Lord Ganesha made of glass, clay, stone, wood, metal, copper, brass, ashtadhatu, fibre, pencil, chalk, matchstick, tablets, buttons, leaves and candles. The museum is spread over three acres of land. The museum has four magnificent halls. The record was announced at a special function held in the presence of Dr Sunita Dhote from the India Book of Records, Sadhuram Patil, the sarpanch of Motha, Sabulal Dahikar, Chikhaldara Municipal Council Vice Chief Ishmail Sheikh Haidar, Fattur Yewale, Dyaneshwari Pal, Ravi Kale, Shilpa Pal, and Nandkumar Khadke.
Pradip says that an entry fee of Rs 50 per head supports the maintenance of the museum. The museum is not for profit and it shows his love for art and devotion. People love to see the different postures of Lord Ganesha, few of which are inspired by the modern lifestyle and use of technology. Children especially find it interesting to see Ganpati working on a laptop, playing sports like cricket, kabaddi and kho-kho, riding a bike, driving a car, reading, sleeping and dancing. Usually, it takes one and a half hours to see the whole collection. More than 7,000 tourists have visited the place in the past three months.
Having quit his granite business that caused air pollution, Pradip  is now in the real estate business that gives him time to pursue his passion. He bought Ganesha idols from China, Singapore, Bangkok, Bali, Indonesia, Nepal, Bhutan, Tibet, Chennai, Bhuvaneshwar, Jaipur, Delhi, Srinagar, Moradabad, Balasore, Udaipur, Kishangarh, Patur, Belgaum, Khajuraho, north east states and even from the Chor Bazar in Mumbai. Few idols were gifted to him by his friends or visitors. His future target is to collect and display at least 10,000 idols at the Nand Udyan Ganpati Sangrahalaya.