KARATE BLACK BELT FROM INTERNATIONAL SHOTOKAN SHOBUKAN KARATE ASSOCIATION, JAPAN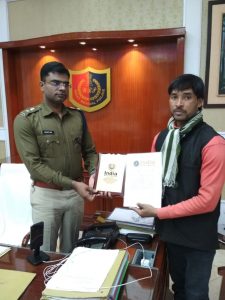 We know that hard work in adventurous field gives a unique result. The Black  Belt  denotes a high competence in the martial art. There are very few persons who get this prestigious belt. A black belt commonly indicates the wearer is competent in a style's basic technique and principles. It is a relatively recent invention from the late 19th century.
Mohammad Rajib Hossain Ansary (born on April 2, 1981) of Murshidabad, West Bengal received the Black Belt felicitation from International Shobukan Karate Association India, affiliated to International Shotokan Shobukan Karate Association Japan on August 24, 2014 along with winning a bronze in 18th FSKA World Cup Shotokan Karate Championship, held in Mumbai from September 22 to 25, 2016.