Drone with a Birthday Card
The record for the largest birthday greeting card flown using a drone was set by DroneAcharya Aerial Innovations Ltd, Pune, Maharashtra. The startup conducted a Drone Show at United Sports Badminton Court, Pune, wherein they lifted an 8×12 feet large greeting card to a height of 20 feet using a hexacopter heavy liftoff drone showcasing the skill and experience of the pilots who manually controlled the drone. The show was conducted on September 16, 2022, to celebrate the 72nd birthday of PM Narendra Modi, thus entering into the pages of the India Book of Records (IBR) and Asia Book of Records (ABR) simultaneously.
The team involved in the attempt was young and energetic, and majorly composed of Drone Acharya's trained drone pilots, business development executives along with graphic designers who put their heart and soul into the record-making attempt. The team built the whole banner design from scratch, and the banner was strategically tied to the drone with the help of ropes. The ABR Adjudicator, Dr Chitra Jain declared the completion of the record and handed over the certificates and the medals to Chief Drone Instructor Amit Takte and the Founder & Managing Director Prateek Srivastava.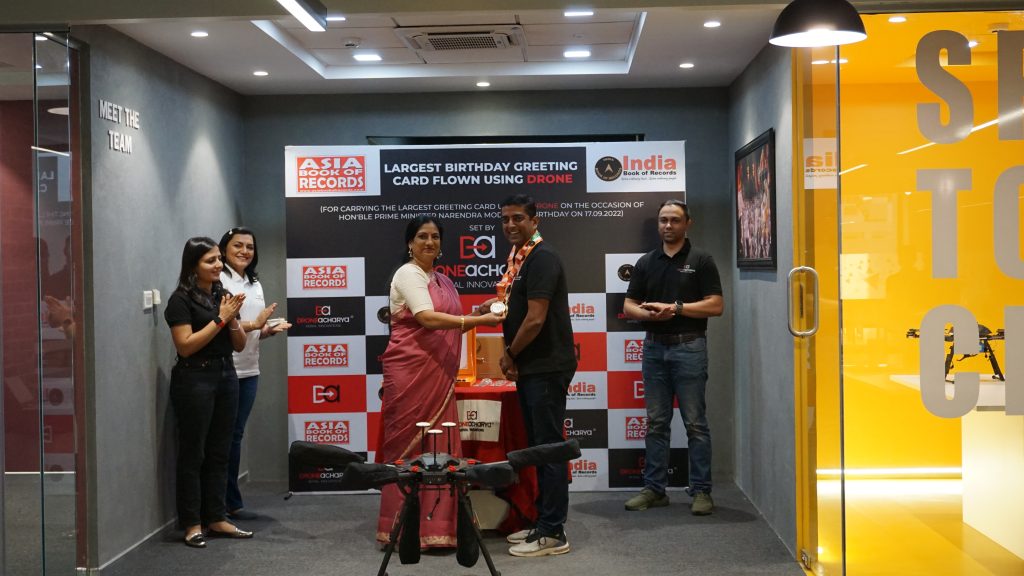 Roshan Flora, Asst. Manager, Digital Marketing & Business Development, DroneAcharya Aerial Innovations Ltd. said, "We used a heavy payload carrying capability hexacopter (a DGCA registered drone), with features like obstacle avoidance, and 30 minutes of flight time. The objective of the exercise was to make sure that the drone remains stable while revealing the whole banner in flight."
Drones are an around $500 million business in India, including sales and drone services, and they are broadly divided into defence and civilian uses. The government of India banned the import of non-Indian drones last year, paving the way for a wave of drone manufacturing in the country, as well as the use of drones for leisure and other purposes by people. Drones have utility in multiple domains such as Agriculture, Energy, Mining, Infrastructure, Oil and Gas, Smart Cities, Urban Planning and Water Resources.
DroneAcharya Aerial Innovations is an enterprise drone solutions company, now listed on the Bombay Stock Exchange (BSE). Headquartered in Pune, the company specialises in Drone & GIS services across multiple domains. "We believe in training the next generation for becoming extremely skilled in the UAV and Geospatial industry. We are authorised by the Directorate General of Civil Aviation (DGCA) to conduct Drone Pilot Certification Training under the New Drone Rules, 2021 issued by the Drone Directorate of DGCA," added Flora.