YOUNGEST TO CLIMB KALSUBAI PEAK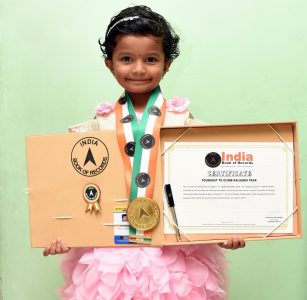 Motivation of elders and will power of a person forces him to face any difficult challenges. Despite being a tender age and weak body, courage automatically generates in this situation.  Human spirit is indomitable. Only at her infancy stage, her lovely movement created history and made the journey memorable for whole family.
The record for being the youngest to climb Kalsubai peak, the highest point in Maharashtra, situated at an elevation of 1646 meters above the sea level was set by 4 years 7 months & 22 days old Harshiti Kaviraj Bhoir ( born October 17, 2014) of Raigad, Maharashtra. She completed the trek along with her parents in just 3 hours and 35 mins, on June 8th, 2019.