Young Achievers
January 01, 2021
India Book of Records congratulates our esteemed record holder Anurag Ramola for receiving the prestigious Pradhan Mantri Rashtriya Bal Puraskar 2021 for his excellent artwork.
Anurag, a Buddhist artist from Dehradun Uttarakhand has won more than 235 awards and honours at the National international and state /district levels his artwork was also displayed in an exhibition at Talkatora stadium Delhi.
He is felicitated for making a record with India Book of Records on September 23, 2020 for creating miniature paintings on 145 one-rupee coins.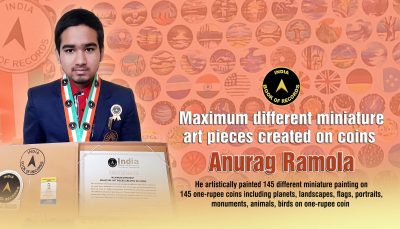 (more…)