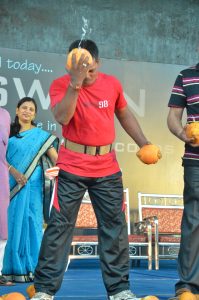 Orissa (officially Odisha), located on the east coast of India, and once the centre of power of the great Mauryan Empire, is at present the ninth largest state in India in terms of area. Mainly known for its rich culture, beautiful Odissi dance and the amazing ancient temples, it is also the birthplace of legendary writers, political leaders, singers and genius in all fields. But this time, it is not the history or beauty of Odisha that has made it enter the record books, but something else of this cultural city attracted the attention of the media and India Book of Records team, and that powerful gravitational force was the scheduled feat of bravery to be performed by one Martial Arts practitioner from Odisha.
Coconuts, be it ripe or tender, are known for its great versatility of usage and are also a part of the daily diet of many people, mostly in the coastal areas. It used as a form of decoration and is also thought to have religious significance. Tender coconuts are mainly available in two different colors- green and orange. But, this multi- purpose fruit, even in its tender form, is so hard that if it hits a mortal being, then he is sure to get some of his bones broken.
Despite being aware of all these harms attached to the tag of this sweet hard fruit, one Oriya Mr. Keshab Swain, a famous martial art practitioner of Odisha, was all set to attempt and break the most number of tender coconuts with his head in a minute, at Utkal Mandap, Odisha, on September 29, 2012.
An excited India Book of Records adjudicator Ankita Borthakur, reached the Biju Pattanaik Airport (Bhubaneshwar airport) at the early hours of September 29, 2012, amidst the swashbuckling beauty and unexpected bout of September humidity, just to have a glimpse of the feat of bravery that was to be attempted by an already confident Keshab Swain.
In the presence of the huge gathering of fans, interested Oriya people, noted dignitaries of Odisha and the India Book of Records adjudicator, Keshab Swain entered the Utkal Mandap with great motivation and a breath of confidence and passion. He started his attempt at an expected speed and with the fans continuously applauding for the brave person. He broke the coconuts one after the other without stopping for any second and thus making the spectators awestruck. At the end of the already allotted time period of 60 seconds, the attempt was over. The outcome of the 1 minute attempt was the breaking of whopping 18 tender coconuts by the claimant. Keshab Swain had set a new record in the history of India Book of Records.
This attempt was the bookmark to an inaugural category as it had never been done in India Book of Records before. Breaking one tender coconut itself naturally requires a lot of strength, courage and technique. It is never an easy task and is not a cake walk for a normal man. If not done using proper skills, then it might cause some severe emergency in case of the person attempting it. But Keshab Swain made this brave attempt, keeping in mind the huge expectations the Oriya people had from him. When asked about the source of inspiration for his love for coconut breaking, the strong man replied "coconuts provided a source of income in his former days, and now it is providing him with the source of fame". He proved it to the world that if you have passion for something, then you can make anything possible.
India Book of Records took the greatest pride in adding another shining star to its record book. Keshab Swain chipped in with a new category for us. Congratulations to him for having successfully completed what he aimed at.
There is a special mention from our side that this feat should never be tried by anyone without being under the watchful eye of a trainer and is a downright no-no for the kids and the teenagers under 18.