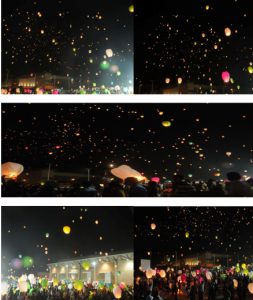 The most sky lanterns flown concurrently (Single Venue) was at the HITEX grounds, Hyderabad, Andhra Pradesh, India during India's first ever Sky Lantern Festival  organized by Business of Tollywood . Com (India) on 25th March 2012. 12,000 sky lanterns were launched by the participantsas a part of India's first ever Annual Sky Lantern festival. The event was organized by Business of Tollywood, a site which combines business and entertainment in the Telugu Film industry.
Business of Tollywood . Com is a Telugu cinema web portal which combines Business and Entertainment in the Telugu  Film Industry- known as Tollywood.
Their Premium Sky Lanterns are made of 100% biodegradable Fire-Retardant paper which results in zero fire hazards. Natural dyes from vegetables and fruits, etc. are used for colored lanterns. The Fuel Cell is a combination of paper, cloth, and wax. All these three elements are biodegradable on their own and leave an almost zero carbon footprint when lit.
In Asian culture it is considered good luck to release sky lanterns which symbolize problems and worries floating away.
There were a gathering about 7500 people at the Sky Lantern Festival included people of all ages.