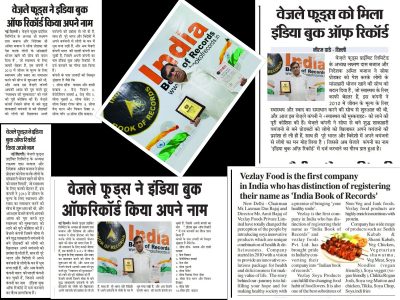 MEDIA SUPPORT FROM INDIA BOOK OF RECORDS
VEZLAY FOODS (P) LTD., SHAHDARA, DELHI
FEAT: MOST VARIETIES OF SOYA FOOD ITEMS WITH HIGH END RARE QUALITY
MEDIA COVERAGE:
Print Media: Humara Metro; Delhi-NCR; Lucknow News; Gurgaon Today; Jagat Karanti
Online Media: News Harpal; BoxDop; Today Face; The Checker News  
Cooking is a serious art and good business done steadily with sweet care. It is an act of love. There is no big spectacle on earth more interesting than the act of cooking dinner for someone whom you love heartily.