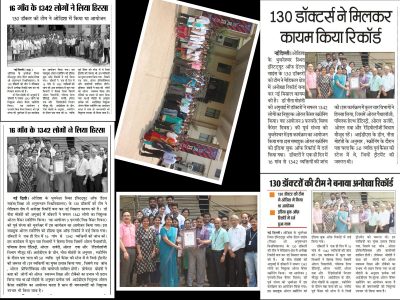 MEDIA SUPPORT FROM INDIA BOOK OF RECORDS
Prof. (Dr.) NEETA MOHANTY ALONG WITH A TEAM OF 130 DOCTORS OF IDS SIKSHA O ANUSANDHAN DEEMED TO BE UNIVERSITY, BHUBANESHWAR
FEAT: LARGEST COMMUNITY BASED ORAL CANCER SCREENING PROGRAMME
MEDIA COVERAGE:
PRINT MEDIA: Jagat Kranti; Gurgaon Today; Namaskar Duniya
ONLINE MEDIA: TodayFace (Online portal); The Checker News (Online portal)
To change the minds of masses and uplift their physical and mental status is not an easy task. For that generally, a big awareness expedition with strong determination played a key role. As Prof. (Dr.) Neeta Mohanty along with a team of 130 doctors of the Institute of Dental Sciences Siksha O Anusandhan Deemed to be University, Bhubaneshwar,  conducted a 'Community Based Free Oral Cancer Screening Programme' on the eve of World Cancer Day (3rd February 2018) screening a total of 1342 patients on a single day.