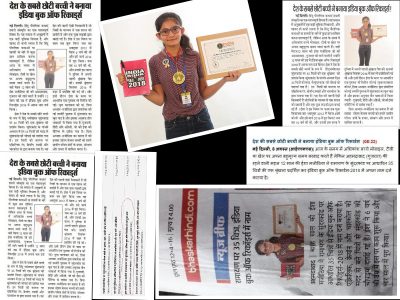 MEDIA SUPPORT FROM INDIA BOOK OF RECORDS
ISHA MAJITHIA OF AHMEDABAD, GUJARAT
FEAT: PICTORIAL DEPICTION OF 'SUNDARKAND' THROUGH PAINTINGS BY THE YOUNGEST
MEDIA COVERAGE:
Print Media: IANS (News Agency); Gurgaon Today; Dainik Bhaskar; Dainik Suffa; Samachar Nirdesh; LNI
Online Media: Zee News; Dainik Bhaskar; Jansatta; NDTV; Times Now News; Todays Samachar; Naya India; Daily Hunt; ABP News; SakshiSamachar; Udaipurkiran; I am Gujarat; etc.
A dream cannot be changed into reality like a magic, for that strong determination and hard work are essential. We must perform something that is known by the world community. Competence is the rare commodity in this tiny age. No doubt, your thought and creativity has made you a unique child and rare example among her age mates.