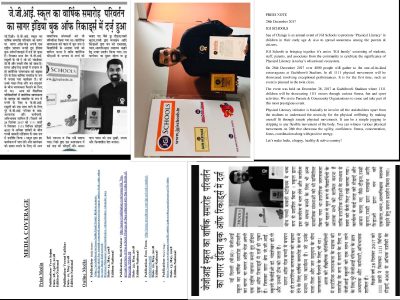 MEDIA SUPPORT FROM INDIA BOOK OF RECORDS
CHANDRASHEKAR D P, CEO OF JGI SCHOOLS, HYDERABAD, TELANGANA
FEAT: BIGGEST ANNUAL EVENTS TO PROMOTE PHYSICAL LITERACY IN CHILDREN
MEDIA COVERAGE:
Print Media: Veer Arjun; Veerat Vaibhav
Online Media: Daily Hunt; Hindi Khabar; Eros Times; News Dog
Style and skill are the two major components for the success of any event. It was a great pleasure for all the participants of this awareness program, especially for students, that they got opportunity to educate and prepare themselves physically and mentally for future. Without physical education, our education system is incomplete.  As we know that healthy mind lives in healthy body.