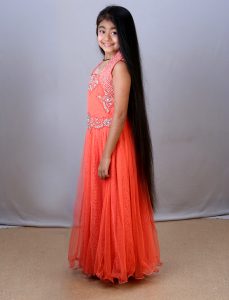 Extra long hair getting into record books is a record in itself in today's time
A girl having extra long hair for her age to a certain extent, symbolically reminds me about a fairy tale where a princess possessed very long hair and whenever her prince charming went to meet her, called out her name and the former used to lend support of her hair for him through a window so that he can climb up with the help of her hair to her room in a palace. Era of princesses, princes, palaces may be no more, but extra long hair can be in vogue anytime, just depends on the person who wants to keep and maintain the same. Schools, especially have strict policies in which they stress on students should keep their hair short, still if a student or two and that too girls, decide to grow their hair extra long then a mention here and compliments go to schools concerned and domestic atmosphere of children, talked about here. Keeping, extra long hair needs care, attention, maintenance more than what they are in other conditions. However, fashion of extra long hair can only bring into action companies dealing in hair products such as oil, shampoo, conditioner and the like, to plan, execute their R&D, working policies towards the trend with more vigor, sincerity, honesty and the like.
Yashsvi Nileshbhai Chavda (born on May 22, 2008) of Rajkot, Gujarat has the longest hair of 4ft and 2 inches among children, as on June 17, 2017.