YOUNGEST TO CREATE LARGEST CROSSWORD PUZZLES (BENGALI)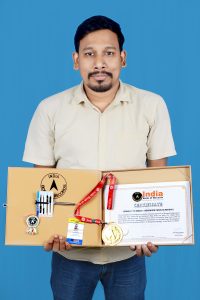 In any competition or game, many aspirants participate, but the candidate who performs extremely well is declared winner.  With this success many bigger opportunities and challenges may come before you, face it with the same zeal as you always have.  You will be famous and the hero of this field.
The record for youngest to create the crossword puzzles in Bangla is above 1700, and was achieved by Suvajyoti Ray (born on May 22, 1982) from Santoshpur, West Bengal. These puzzles were created by him from 1997 to April 2018 and were subsequently published in Mainstream Newspapers, Magazines and many other Dailies, in Bengali Language, as on May 14, 2018.