YOUNGEST TALENTED GIRL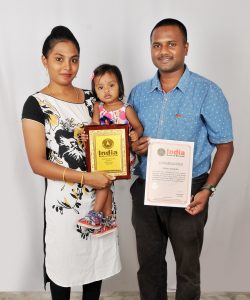 It is fact that a person is not known with his name if his talent does not support him. A winner is someone who recognizes his God-given talents. Hard work opens door and talent makes the way easy to get success.
Dyuthi K.G. (born on October 14, 2016) of Mysore, Karnataka, showed her miraculous talent through identifying Body Parts, Toys, Vegetables, Fruits, etc. ;imitating Animals; Weight Lifting 2 to 3 kgs and other types of talent only at the age of 1 year and 5 months.