YOUNGEST TO REPRESENT INDIA IN MUSIC IN SRI LANKA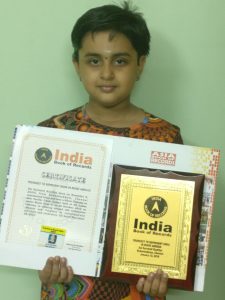 Any good record made by a country man especially outside of country,  is the matter of pride for the whole country. We all feel happiness and pride, Sai Saramati Kautilya gave same happiness and pride for all of us by making such a type of record.
Sai Saramati Kautilya (born on November 8, 2009) from Kodambakkam, Chennai represented India and won a Silver Diploma in Asia Pacific Choir Games held at Sri Lanka under Music from 21 to 28 October, 2017, in addition to winning around 100 certificates and medals in extracurricular activities and studies, till dated December 28, 2017.