YOUNGEST Ph.D. HOLDER IN NURSING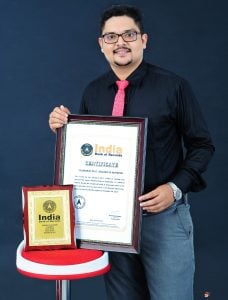 Ph.D. degree is the dream of almost every meritorious student. It is one of the biggest achievements in the field of education. But a grand success never comes so easily before us as a cooked food. Years of hard work and your strong determination have given you this red letter day so early in life.
The record for the 'Youngest Ph.D. holder in Nursing' was achieved by Vishnu Renjith (born on September 14, 1987) of Kollam district, Kerala. He completed his Ph.D. (Nursing) course in 3.5 years (October 2013 to April 2017) from Manipal University, India and was awarded the degree on November 28, 2017.